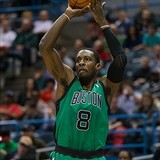 Playing a second night on a back-to-back on the road against one of the best teams in the Eastern Conference? Not a problem. Jeff Green hits a lay-up with .5 seconds left on a beautiful play that was suggested by assistant coach Armond Hill and the Celtics steal one of their biggest wins of the year, 83-81. The game happened exactly as you would've expected: a physical, ugly game...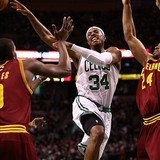 Molly updates the Celtics practice on Sunday. Armond Hill led the practice, as Doc was up in Maine watching his son play. Celtics veterans Kevin Garnett, Paul Pierce, and Jason Terry were all given the day off as well. The practice was mainly to get the newest Celtics some repetitions with the Celtics system. I really liked this line from Hill: "Repetition is the mother of learning."
ESPN Boston's Chris Forsberg reports from Celtics practice in Waltham today: WALTHAM, Mass. — Boston Celtics coach Doc Rivers gave members of the 35+ club — Kevin Garnett, Paul Pierce, and Jason Terry — an extra day off and a respite from Monday's practice, then tossed his clipboard to veteran assistant Armond Hill to run the skeleton session. Leandro Barbosa also sat out the brief...
MORE STORIES >>
Celtics News

Delivered to your inbox

You'll also receive Yardbarker's daily Top 10, featuring the best sports stories from around the web. Customize your newsletter to get articles on your favorite sports and teams. And the best part? It's free!