We've updated our Privacy Policy.
By continuing to use this site, you are agreeing to the new Privacy Policy.
I have compared Marcus Smart's tough, tenacious play to that of former Celtic, Dave Cowens. At least one of our readers, JJake Spitz, seems to agree. JJake Spitz • Oh that Marcus! I have never seen a Celtic play like him before, maybe Cowens? In the 4th, MN could cut the lead to 5 or 6 and they had the Celtics beat on a pick and role play, and Marcus left his man, dove straight out...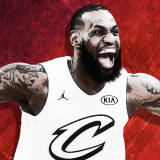 The 2018 NBA All-Star Game is in the books, and all indications point to the updated schoolyard-style draft format leading to new levels of competition for the midseason spectacle (also, next year's draft will likely be televised, which is the right call). Before the game even began, the two captains had a lot to say in terms of sneaker style with Steph Curry taking a subtle but...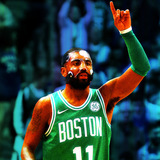 On Monday night, Kyrie Irving had his best game of his brief Boston career, scoring 47 points on just 22 shots, while also adding six assists. The Celtics won, because of course they did, pushing their current winning streak to an impressive 16 games.Kyrie is clearly relishing in having his own team once again, and he is crushing it in Boston no matter how you look at it, whether...
LIKE WHAT YOU SEE?
GET THE DAILY NEWSLETTER:
Every morning, we compile the links of the day and dump them here… highlighting the big story line. Because there's nothing quite as satisfying as a good morning dump. The Hall of Fame inductions of major Celtics contributors Jo Jo White and Tom Heinsohn prompted fellow Hall member Dave Cowens to reflect on his career with the Celtics, or rather the end of it. Cowens is considered...
  I found a truly rare piece of Celtics memorabilia on Ebay today.  Ebay seller swoosh26.2 has a signed deadstock pair of Dave Cowens Nike Blazers.  The shoes are also signed by the Celtics legend.  Cowens was one of the first NBA stars to embrace Nike.  It is very rare for sneakers of this age to come in the original (OG) box.  Making the shoes even cooler is the shipping label...
By Cort Reynolds In the 1970s, no one played harder anywhere or better for Boston than undersized Celtic great center Dave Cowens, the redhead who led Gang Green to two NBA championships. Although he was not officially named the MVP of either Finals victory, a case could be made, especially in 1976, that Cowens was deserving of the honor. In both clinching victories, he was the...
#18, Dave Cowens Marc Stein's weekly NBA power rankings on ESPN have just come out, and the Celtics find themselves in a free fall all the way down to the 18th spot (from #14 last week).  While it's hard to fathom that there could really be 17 teams in the league better than Boston at the moment, looking up and down the list I don't have any major gripes.  At 12-11 the C's probably...
Today is NBA Hall of Famer and Boston Celtics legend Dave Cowens' 64th birthday. Cowens was brought in by Red Auerbach in 1970 to try and fill the enormous void left when Bill Russell retired. Well, Cowens was definitely successful in helping the C's remain a relevant team. He earned co-rookie of the year honors in his first season and helped lead the Celtics to titles in 1974 &amp...
Check out our video vault for more Celtics mixes, videos, and movies.
Tiny Archibald made short work of Bill Sharman yesterday, taking 86% of the vote.  Tiny's got a big challenge.  In a few days, he'll be taking on White Bracket top seed, and second overall seed, Paul Pierce.  Today's matchup is for the right to face our overall #1, Larry Bird.  It pits Green Bracket 8th seed Dave Cowens (16 overall) against 9th seed Jo Jo White (17th overall)...
MORE STORIES >>
Pistons News

Delivered to your inbox

You'll also receive Yardbarker's daily Top 10, featuring the best sports stories from around the web. Customize your newsletter to get articles on your favorite sports and teams. And the best part? It's free!