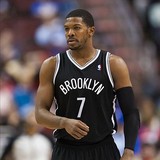 The Nets have lost their first asset of the summer. Let the offseason attrition begin.  NetsDaily had further words on Welsh: "Welch ran the offense for Kidd and Hollins but was also largely responsible for player development.  Fans may recall Welch's pre-game workouts with Joe Johnson. Joe Wolf, the Nets big man coach, was reportedly in contention for a college coaching job at the...
For just the second time in our What the Hell Happened To segment, we feature a player who sported a mullet (Dwayne Schintzius was the first).  As a fellow-Tarheel, Michael Jordan wanted him.  The hell with Jerry Krause and picking Horace Grant, why didn't you pick Wolf?  Perhaps it was a preview of MJ's ineptness as a future general manager, but it's true: Michael Jordan wanted...
MORE STORIES >>
NBA News

Delivered to your inbox

You'll also receive Yardbarker's daily Top 10, featuring the best sports stories from around the web. Customize your newsletter to get articles on your favorite sports and teams. And the best part? It's free!