Post-game audio D'Angelo Russell Rondae Hollis-Jefferson DeMarre Carroll Caris LeVert Kenny Atkinson
Kenny Atkinson on the Nets win over the Mavericks.
PHILADELPHIA — Different lineup, same end result. Nets coach Kenny Atkinson juggled his lineup, pulling Spencer Dinwiddie and giving Rondae Hollis-Jefferson and Joe Harris starts. They defended better, but couldn't buy a basket down the stretch in a 120-116 loss at Wells Fargo Center "It's not like we've won 12 in a row," Atkinson had...
Well, the Russell-Dinwiddie starting combo was fun while it lasted. According to reports, Spencer Dinwiddie will head to the bench for Friday night's matchup against the Philadelphia 76ers. From shootaround... Dinwiddie has started 57 games this season but has struggled of late. He's averaged nine points and eight assists on 34 percent shooting — 17.6 percent from 3-point - in nine...
D'Angelo Russell's 3-point shooting has certainly improved. He's hitting 41 percent from deep since he rejoined the starting unit, 46.5 percent in March and 50 percent over the last four. How about his defense? Kenny Atkinson thinks it's getting better too, particularly elevated since his return from arthroscopic knee surgery in January. "It's a little bit of a challenge for...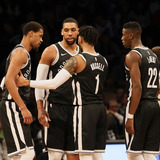 Jahlil Okafor hasn't found much success on the court since being traded to the Nets, but coach Kenny Atkinson believes the big man is simply a "victim of circumstance," as Brian Lewis of the New York Post relays."Sometimes it's just circumstances," Atkinson said. "I'd say his approach, his buy-in to what we're doing, has been phenomenal. His buy-in to our performance team and getting...
Kenny Atkinson on the Brooklyn Nets 21st win of the season.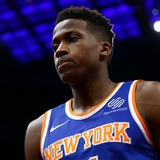 Although March 1 isn't an official deadline for the Knicks to make a decision on Joakim Noah, the team will have to waive him on or before that day if he wants to retain his postseason eligibility. That makes it a date worth watching, and according to Marc Berman of The New York Post, the National Basketball Players Association will have an eye on the situation.Berman hears from...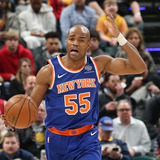 In the view of Marc Berman of The New York Post, it may be time for the Knicks to cut ties with Jarrett Jack. The veteran point guard has been solid this season, but he's expected to cede playing time to Emmanuel Mudiay, Frank Ntilikina and Trey Burke down the stretch. So if his agents sense that there would any interest in Jack from playoff teams, cutting him by March 1 and letting...
The NBA has a new hotline for players to communicate anonymously about NBA officials. It's a safe space for these seven-foot snowflakes to talk about their feelings, get explanations for rules, and plead their case about NBA discipline. Think of it as the audio version of the comments section from Adam Silver's LiveJournal. We know when that hotline blings, that can only mean one...
MORE STORIES >>
Knicks News

Delivered to your inbox

You'll also receive Yardbarker's daily Top 10, featuring the best sports stories from around the web. Customize your newsletter to get articles on your favorite sports and teams. And the best part? It's free!