Kevin Martin joins Joe Johnson as one of the hottest buyout commodities on or about to hit the open market with teams like the Cleveland Cavaliers, Miami Heat, Boston Celtics and Dallas Mavericks on the hunt for upgrades. Martin, 33, isn't going much of anywhere with the Minnesota Timberwolves this season and brings an obvious boon in the experience department for a would-be contender...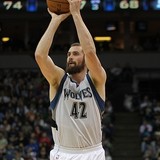 The week that was: A lot happened for the Minnesota Timberwolves this week, not only did Kevin Love make his return to Minnesota, but Kevin Martin finally came back from his wrist injury. The Timberwolves went 1-3 in four games this week, picking up one win against the Boston Celtics 110-98 on Wednesday but losing to the Oklahoma City Thunder 92-84 on Monday, the Philadelphia 76ers...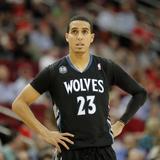 Minnesota Timberwolves guard Kevin Martin hit a 3-pointer against the Chicago Bulls on Saturday night to give his team a two-point lead late in the fourth quarter. It was the type of moment that warrants a manly celebration, one that wound up costing Martin $15,000. The NBA announced on Monday that Martin has been fined...Read More
With the 2014 NBA All-Star Weekend festivities coming to a close tonight, it is time for teams to get back to business as the final stretch of the season approaches. The Minnesota Timberwolves find themselves with a below .500 (25-28) record with 29 games left in their regular season schedule, which sparks questions regarding the team's chances of making their first post season appearance...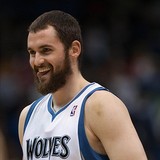 After suffering a heartbreaking overtime loss to the Los Angeles Clippers, Kevin Love and the Minnesota Timberwolves bounced back with two impressive victories. Minnesota showed signs of greatness with a 120 – 98 victory over the Washing Wizards and a 117 – 95 win over the Miluakee Bucks the very next day. With back-to-back 22 point wins, the Minnesota Timberwolves show promise as...
MORE STORIES >>
Timberwolves News

Delivered to your inbox

You'll also receive Yardbarker's daily Top 10, featuring the best sports stories from around the web. Customize your newsletter to get articles on your favorite sports and teams. And the best part? It's free!