We've updated our Privacy Policy.
By continuing to use this site, you are agreeing to the new Privacy Policy.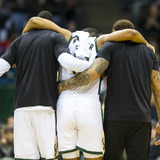 Jabari Parker is 21 years old.Wednesday night was supposed to be a special night for the Milwaukee Bucks. Unfortunately, that's all we're going to say about it. This isn't going to be about their playoff chances. Or even about their future, immediate or otherwise.No, we're just here to talk about Jabari Parker. We're here to talk about the fact that he's now torn the same ACL twice...
This article was originally published on Pick and Popovich on June 8, 2016. Every Wednesday, Pick and Popovich will dive down the rabbit hole and explore a different NBA "What if." The only rule is that the scenario must come from a place that is somewhat realistic and grounded in at least somewhat believable rumor or hearsay. Otherwise, anything goes. Loyalty is important to Michael...
With the lockout making Celtics news virtually nonexistant, there's lots of time to speculate. So let's speculate a little about Michael Redd. Slam quoted a reporter from the Milwaukee Journal-Times as saying that Redd would be playing for one of "the Eastern Conference's title contenders."   Now the first thing that comes to mind with Redd is obviously injuries. He has played...
MORE STORIES >>
NBA News

Delivered to your inbox

You'll also receive Yardbarker's daily Top 10, featuring the best sports stories from around the web. Customize your newsletter to get articles on your favorite sports and teams. And the best part? It's free!