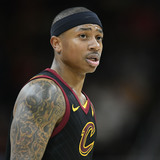 After weeks of speculation suggesting that it might be a quiet 2018 trade deadline, we got a pretty eventful day in terms of deals completed — NBA teams agreed to 12 trades today, after four others had been finalized in the 10 days leading up to the deadline.The deadline was still quiet on some fronts, with contenders like the Warriors, Celtics, Rockets, and Raptors staying out of...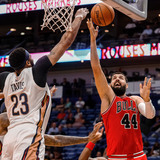 Sometimes all you need is a second chance, as the New Orleans Pelicans proved when they acquired Nikola Mirotic from the Chicago Bulls. The teams were reportedly close to a trade a couple of days ago before falling apart. But things change quickly this time of year and the trade was resurrected. The Pelicans acquired Nikola Mirotic and a 2018 second round pick for Tony Allen, Omer...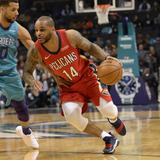 As part of the trade that will send Nikola Mirotic to New Orleans, the Bulls will receive three players: Omer Asik, Tony Allen, and Jameer Nelson. While initial reports indicated that the Bulls would likely waive both Allen and Nelson, ESPN's Adrian Wojnarowski tweets that the club is now planning to keep Nelson on its roster.K.C. Johnson of The Chicago Tribune first reported (via...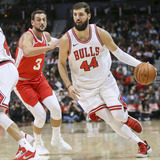 Nikola Mirotić probably isn't going to be with the Chicago Bulls much longer. So while they look for a trade, they are keeping him on the sidelines."Bulls have decided that Niko Mirotić will not play again until the trade deadline passes as the organization continues working on finding a deal that makes sense for both sides."On the season, Mirotić is averaging 16.8 points and 6.4...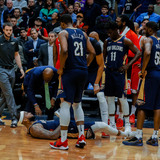 The season-ending injury to DeMarcus Cousins hasn't changed the Pelicans' plans to add talent by the February 8 trade deadline, according to Scott Kushner of The Journal Times. The loss of Cousins, who was averaging 25.5 points and 12.9 rebounds per game, leaves a big hole in the lineup and New Orleans will be aggressive on the trade market to try to compensate for his absence.The...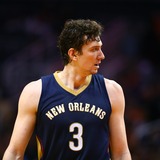 The New Orleans Pelicans hope to shed one of the NBA's worst contracts. According to a report by A. Sherrod Blakely of CSN New England on Sunday, the Pelicans are making center Omer Asik "very much available" for trade. Asik, 30, holds meager averages of 3.3 points, 6.0 rebounds, and 0.4 blocks in 17.5 minutes per game for New Orleans this season. He is in the second year of a...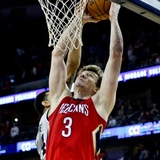 METAIRIE, La. -- The New Orleans Pelicans say center Omer Asik is expected to be sidelined about three weeks with a right calf strain. The club says the 7-footer strained his calf in practice on Wednesday. Asik is entering his second season in New Orleans. He appeared in 76 games for the Pelicans last season, averaging 7.3 points and 9.8 rebounds per game. Asik, who is from Turkey...
The New Orleans Pelicans are entering their second season donning the name of Louisiana's state bird and have the talent to end a three-year playoff drought. With most of last season's key players returning and the addition of center Omer Asik to pair with franchise player Anthony Davis, things are trending up for the Pelicans. Here's the current roster. New Orleans finished with...
After months of speculation and trade rumors, the Houston Rockets have finally traded Omer Asik. Asik was dealt to the Pelicans in exchange for a first-round pick in 2015, ESPN's Brian Windhorst reports. The Rockets are also sending $1.5 million in cash to New Orleans as part of the deal. Asik is a valuable big […]
MORE STORIES >>
Bulls News

Delivered to your inbox

You'll also receive Yardbarker's daily Top 10, featuring the best sports stories from around the web. Customize your newsletter to get articles on your favorite sports and teams. And the best part? It's free!