We've updated our Privacy Policy.
By continuing to use this site, you are agreeing to the new Privacy Policy.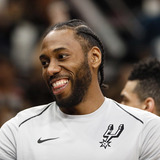 San Antonio Spurs fans have plenty of reasons to be frustrated with Kawhi Leonard, but Pau Gasol is cautioning them.Leonard has missed most of the season due to a quad injury. He returned in December and then was shut down again in January. Then when it looked like he would return on Thursday, the Spurs said that wouldn't happen because Leonard had not received medical clearance...
The Spurs' Spaniard drops some wisdom about Kawhi's injury situation. Pau Gasol injured his right shoulder 12 days ago while playing against his brother Marc and the Memphis Grizzlies. Although he sat out one game, he has been coming off the bench and playing with additional athletic gear to protect his shoulder. It's still sore. It's going to be sore. I didn't really let it heal...
Anthony Davis isn't concerned about losing his All-Star partner on the Pelicans' front line this offseason, relays William Guillory of The Times-Picayune. Davis believes free agent DeMarcus Cousins will re-sign in New Orleans, although a season-ending Achilles injury may have clouded his future somewhat."I hope so. That's a decision he has to make. I'm pretty confident that he'll...
LIKE WHAT YOU SEE?
GET THE DAILY NEWSLETTER: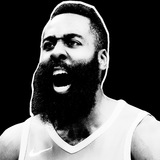 When fans look back on the 2017-18 NBA season, they are going to refer to this year as "the James Harden season."The Houston Rockets have the best record in the NBA, thanks in large part to the 16-game winning streak the team is currently on, and Harden, by just about every measure, has been the best player in the Association. His 31 points-per-game leads the league, as does his...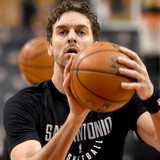 The hits just keep coming for the San Antonio Spurs. Monday against the Memphis Grizzlies, Pau Gasol would collide with his brother mark. But according to teammate Tony Parker, it wasn't just any collision."He hurt his shoulder, and he told me it was bad. We will see, but I'm pretty sure he's not going to play against Golden State."Things are heating up for the Spurs right now, but...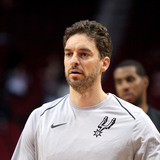 Pau Gasol appears unlikely to play in the San Antonio Spurs' game on Thursday against the Golden State Warriors due to a shoulder injury.Gasol injured his shoulder on Monday night in a collision with his brother Marc, who plays for the Memphis Grizzlies. After the game, Spurs point guard Tony Parker said Gasol was unlikely to play on Thursday because of the injury. Gasol's collision...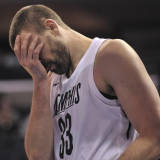 Pau Gasol is definitely his brother's keeper.On Sunday, the San Antonio Spurs big man spoke on the situation of younger brother Marc, who is having a difficult year on the lowly Memphis Grizzlies."Of course, he's upset. He should be upset," said Pau, according to Ronald Tillery of the Commercial Appeal. "Any player who competes and cares would be upset. That's a good sign from a...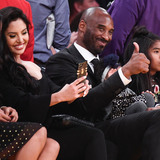 Kobe Bryant and Pau Gasol shared one of the closer teammate brotherhoods in recent NBA history, and now Bryant is calling for the two to be reunited once again, this time in the Staples Center rafters.Bryant, whose short film "Dear Basketball" is up for Best Animated Short at this year's Academy Awards, spoke with Spanish journalist Antonio Martin Guirado at the annual Oscar Nominees...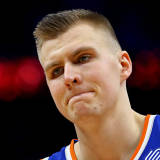 Two European-based NBA scouts have railed against the notion that the New York Knicks have a true franchise player on their hands in Kristaps Porzingis.The New York Knicks have chartered a course with a goal for success down the road after years of dysfunction. The team has decided to make Porzingis the centerpiece of that movement. However, some have cast doubt on whether that is...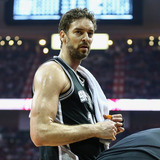 The San Antonio Spurs made their first big move in free agency Thursday evening, adding forward Rudy Gay on a two-year contract. Gay, who is coming off an Achilles injury, is expected to play a stretch-four role next to Kawhi Leonard in San Antonio's frontcourt.This leaves the statuses of both LaMarcus Aldridge and Pau Gasol clearly up in the air, especially with the Spurs still...
MORE STORIES >>
Spurs News

Delivered to your inbox

You'll also receive Yardbarker's daily Top 10, featuring the best sports stories from around the web. Customize your newsletter to get articles on your favorite sports and teams. And the best part? It's free!