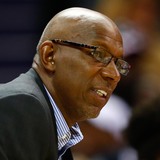 Former Trail Blazers and Rockets star Clyde Drexler has been named the new commissioner of the BIG3 basketball league, according to a press release (via Jeff Zillgitt of USA Today). Drexler was involved with the league last season as the coach of BIG3 team Power."Clyde is a consummate professional, revered businessman and indisputably one of the greatest players to ever play the...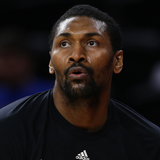 Metta World Peace has found a place to play basketball next summer, and the former Los Angeles Lakers forward has reportedly decided to get back to his roots.According to ESPN's Marc J. Spears, World Peace is bringing his old name back and will play as Ron Artest in the BIG3 league next season. World Peace legally changed his name to Metta World Peace back in 2011. Many people still...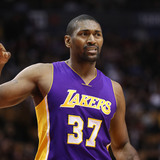 Metta World Peace's NBA career may appear to be over, but the artist formerly known as "Ron Artest" apparently didn't want to be away from the game of basketball for long.World Peace was hired by the South Bay Lakers on Monday, and he'll join the team as a player development coach.The team is set to begin its 2017-18 campaign, and training camp opens on Tuesday, so the timing here...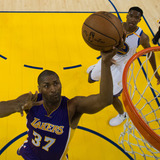 Metta World Peace's retirement from professional basketball apparently didn't last too long. The artist formerly known as Ron Artest will now reportedly join on to take part in a new co-ed basketball league, created by none other than the great Master P."Another big signing for Master P … who just locked up Metta World Peace to join his new co-ed basketball league," TMZ Sports reported...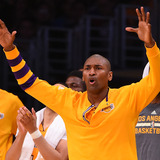 Who will win the NBA Finals? Certainly there's no shortage of opinions on that. Metta World Peace (formerly Ron Artest) won a championship with the 2010 Los Angeles Lakers, so his opinion carries some weight.Unfortunately, World Peace can't quite make a decision. It's only understandable. Choosing between the Cleveland Cavaliers and Golden State Warriors can be tough.Only, those...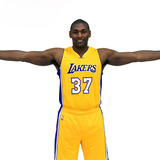 Metta World Peace's NBA career is alive and well. The veteran survived the last round of roster cuts on Monday, meaning he will make the final roster with the Los Angeles Lakers. A big reason World Peace survived was because Yi Jianlian requested and received his release. We know the Lakers value World Peace, particularly his veteran leadership. In fact, they were prepared to...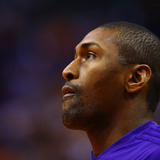 Metta World Peace recently filed a restraining order against a woman he claims is stalking his family and physically attacked his daughter. TMZ reports that a judge has granted a protective order after World Peace told the Los Angeles Police a "stranger" named Miesha Shakes harassed him in a series of emails that date back to 2015. World Peace says many of the emails contained violent...
Off to a dismal 1-7 start to the season, Los Angeles Lakers forward Metta World Peace has an explanation for the Lakers' slow start, which can only be described as "classic Metta.""Some of the guys forgot how we got the lead, kind of like a fish," World Peace said. "You know how fish dig their thing in 30 second intervals? Then run into a mirror. Then they go, 'Oh, that hurt…'...
Los Angeles Lakers forward Metta World Peace came into the NBA in 1999, and over the course of his career he has seen the game change quite a bit; and not in a way he appreciates."It's no longer a man's game," World Peace told the Los Angeles Times. "It's a baby's game. There's softies everywhere. Everybody's soft. Nobody's hard no more. So, you just deal with it, you adjust and...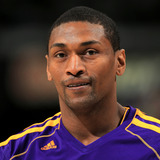 Metta World Peace appears to be on his way back to joining the Lakers. The free agent forward has been working out at the Lakers' facility this summer. He continued working out with the team's players this week, and Yahoo's Adrian Wojnarowski reports that World Peace is expected to sign a one-year deal with the team later this month. The LA Daily News' Mark Medina reports the same...
MORE STORIES >>
Lakers News

Delivered to your inbox

You'll also receive Yardbarker's daily Top 10, featuring the best sports stories from around the web. Customize your newsletter to get articles on your favorite sports and teams. And the best part? It's free!