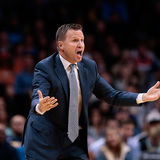 Nikola Jokic was assessed a technical foul during Monday night's game for bumping into Washington Wizards coach Scott Brooks. Depending on who you ask, the contact initiated by Jokic may or may not have been intentional.Brooks was walking onto the court as Jokic was walking off following a timeout late in the fourth quarter. He put his head down and bumped Brooks. Here's the video...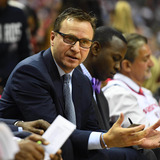 Washington Wizards head coach Scott Brooks is trying to keep everything in perspective ahead of the biggest game of the season.Before Monday's Game 7 between the Wizards and the Boston Celtics in their second-round playoff series, Brooks dropped this great quote about the pressure of the situation, per David Aldridge of TNT. While Brooks is 2-0 in his head coaching career in Game...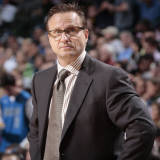 Less than a week after firing Randy Wittman, it appears that the Washington Wizards have a replacement at head coach. Yahoo Sports NBA insider Adrian Wojnarowski is reporting that former Oklahoma City Thunder head coach Scott Brooks will now man the bench in D.C. Scott Brooks has agreed to deal to become the Washington coach, league source tells @TheVertical — Adrian Wojnarowski...
The Washington Wizards may have found a new head coach and perhaps another bargaining chip to lure superstar Kevin Durant in free agency. According to ESPN's Marc Stein, Washington is the front-runner to land former Oklahoma City Thunder coach Scott Brooks, who has also received interest from Houston. @ESPNSteinLine engaged? Dwight already has his flight booked to Cabo next week...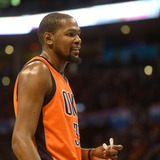 With the New York Knicks head coaching position arguably being more attractive than it has been in years, several high-profile candidates reportedly are interested in the job, including Tom Thibodeau, Mark Jackson, Jeff Van Gundy, Jeff Hornacek, David Blatt and Scott Brooks, among others. While all the potential candidates have their qualities — although none of them run the Phil...
By Larry Brown The Oklahoma City Thunder have only had two coaches since the franchise moved cities, and now both of them have been fired. P.J. Carlesimo was the coach in Seattle and was fired after a 1-12 start in the team's first season in Oklahoma City. One of his assistants at the time, Scott Brooks, took over on an interim basis and became the team's head coach for the next...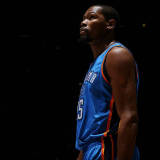 By Larry Brown Kevin Durant posted a note on Instagram Wednesday in which he expressed his feelings about the Oklahoma City Thunder's firing of coach Scott Brooks. Though Durant said he supported the team's decision to make the move, he acknowledged how difficult it is. "Today was tough for me. While I support our team's decision 100 percent and look forward to the upcoming season...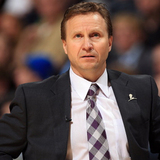 by Vincent Frank Coming off an injury-plagued 2014-2015 season that saw his Oklahoma City Thunder miss the playoffs altogether, it's being reported that head coach Scott Brooks has been fired. Yahoo Sports insider Adrian Wojnarowski is reporting that Thunder general manager Sam Presti met with Brooks in California on Wednesday to deliver the news to the now-former Thunder head...
Reggie Jackson has been given a starting role for the struggling Thabo Sefolosha. When Oklahoma City Thunder head coach Scott Brooks started Caron Butler for the struggling Thabo Sefolosha in the second round of the playoffs against the Los Angeles Clippers, it was a first for him. That move was the first time that he changed his starting lineup for reasons other than injury since...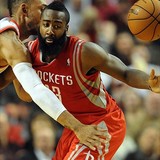 Once apart of a great young core in OKC, Harden took on the same role as Durant as the leader of Houston. In 2012, the Oklahoma City Thunder ended a great season in the Finals to the champion Miami Heat. Although the series count of 4-1 does not illustrate exactly how competitive the series was, it was more than obvious that the Thunder were about one move away from dethroning the...
MORE STORIES >>
NBA News

Delivered to your inbox

You'll also receive Yardbarker's daily Top 10, featuring the best sports stories from around the web. Customize your newsletter to get articles on your favorite sports and teams. And the best part? It's free!