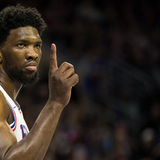 Sixers big man Joel Embiid did his best Dikembe Mutombo impression during Saturday's game against the Magic.Embiid rejected Shelvin Mack's floater attempt near the rim with authority, and then let everyone know about it, by doing Mutombo's signature finger wag gesture. Embiid is fun to watch every time he steps foot on the court.
Last night the Hawks resigned back-up point guard Shelvin Mack. Mack started last season third in the depth chart for point guards behind starter Jeff Teague and then-rookie Dennis Schröder. Schröder was drafted 17th overall and had some high expectations entering the 2013 season. There was a lot of hype surrounding Schröder as many compared him to Boston Celtics' Rajon Rondo, even...
The Atlanta Hawks have the 15th and 43rd overall pick in this year's draft, and last week I previewed who they should take with the 15th pick. This week we'll look at some possible second round sleepers that the Hawks could swipe up as a surprise. Here are three players (that should be available at the 43rd pick) I think have the skill set to turn into very serviceable NBA players...
The Atlanta Hawks are currently sitting at 23-21 and the three seed in the East. The three seed represents that the Hawks are one of the conference's best teams. That's impressive, unless you're in the East. Currently the six, seven and eight seeds in the East have losing records, but they would still make the playoffs if the season ended today. Those teams would be guaranteed no...
Washington Wizards rookie point guard Shelvin Mack is learning a new system with a new team and down in the depth chart behind John Wall, the No. 1 overall pick in last year's NBA draft. None of those obstacles has the former Butler star discouraged Just check his Twitter account. Virtually every morning he'll tweet "Think Positive," and that attitude has been supremely important...
MORE STORIES >>
Magic News

Delivered to your inbox

You'll also receive Yardbarker's daily Top 10, featuring the best sports stories from around the web. Customize your newsletter to get articles on your favorite sports and teams. And the best part? It's free!