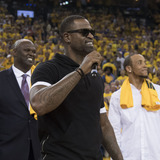 Stephen Jackson has high hopes for his upcoming stint in the BIG3 League.Jackson, who was always good for some funny quotes, recently provided some more at BIG3 media day.He spoke to BSO about what he expects from the league, specifically on how physical play on the court will be. Furthermore, he went on to say he'll be "making love to pressure" on the court, which is great. Gotta love STAK.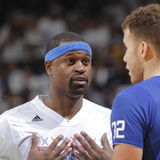 The Golden State Warriors have made some big additions already this summer, but an unlikely name will be trying to latch on with them come training camp. ESPN's Rachel Nichols tweeted Sunday that NBA veteran Stephen Jackson told her that he plans to try to return to the league at Warriors camp. Nichols would know, as Jackson has been a contributor to her ESPN show, "The Jump."...
Former NBA swingman Stephen Jackson is looking to make a comeback next season, and the Golden State Warriors are willing to give him an opportunity. However, the team may have a different role in mind than the one Jackson envisions for himself. ESPN's Marc Stein reports that the Warriors are interested in adding Jackson to their coaching staff, but the 38-year-old wants to play...
After 14 seasons that came with a lot of thrills, a lot of highs and a low or two — including a championship with the San Antonio Spurs in 2003 and a 30-game suspension for his role in the Malice at the Palace — Stephen Jackson this week formally announced his retirement from the NBA....Read More The post Stephen Jackson charging $1K per table to attend his retirement party (pic...
THE TRILLEST
Even though former San Antonio Spurs player Stephen Jackson is currently without a team, he has been working out to stay in shape for the upcoming NBA season. Jackson is confident that he will be playing this coming season and in a recent Instagram video, he has declared that he has gotten his love for the game back. Jackson's departure from the Spurs this past season was strange...
HE GONE
The San Antonio Spurs haven't had a dream season so far and the nightmare has gotten worse for its fans. The team has released Stephen Jackson. San Antonio has waived Stephen Jackson, league source tells Y! Sports. Source on Spurs release of Stephen Jackson: "It's been brewing for a few days." Gregg Popovich and Stephen Jackson have been sparring over Jax's role...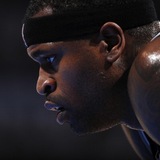 SAD STORY
Stephen Jackson revealed Thursday that he missed three games because his wife had a miscarriage of what would have been the couple's first child. Jackson played 19 minutes for the Spurs on Feb. 10 against the Nets, but he missed the team's next three games because of personal reasons. He rejoined the team on Thursday and played 19 minutes in a 116-90 win over the Los Angeles Clippers...
TOO CLOSE FOR COMFORT?
Wait...what?
Stephen Jackson had to leave Thursday's Spurs-Knicks game at Madison Square Garden after spraining his ankle falling on a waitress who was serving Mayor Bloomberg. We're not even joking. The injury occurred late in the first quarter of the game after Jackson attempted a three-point shot from the corner. As he was backing up while tracking his shot, he stumbled over a waitress who...
JUST FOR KICKS
Imagine having just a room for just your sneakers. Now imagine being an NBA baller and having the ability to afford almost an entire wing of a massive home to dedicate your sneaker collection. Well that is reality for San Antonio Spurs' Stephen Jackson. Jackson opened up his home, and closet, to Nice Kicks where he had a chance to show off his impressive sneaker collection which...
MORE STORIES >>
NBA News

Delivered to your inbox

You'll also receive Yardbarker's daily Top 10, featuring the best sports stories from around the web. Customize your newsletter to get articles on your favorite sports and teams. And the best part? It's free!