We've updated our Privacy Policy.
By continuing to use this site, you are agreeing to the new Privacy Policy.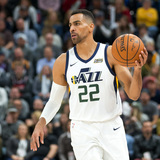 The NBA has awarded the Jazz with a $2.62MM disabled player exception for veteran Thabo Sefolosha, Adrian Wojnarowski of ESPN tweets.Sefolosha, who had knee surgery last week, played 38 games for Utah prior to his shelving and is ruled out for the remainder of the season. In 21.2 minutes, the 33-year-old swingman had posted 8.2 points and 4.2 rebounds per game.Given Sefolosha's relatively...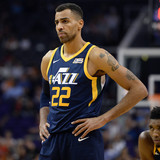 As expected, Thabo Sefolosha has elected to undergo right knee surgery and the procedure is happening Wednesday, the Jazz confirmed in a press release this week. A weekend report indicated that Sefolosha would be sidelined for the remainder of the 2017/18 season after going under the knife. While the club's announcement didn't explicitly confirm that the injury is season-ending,...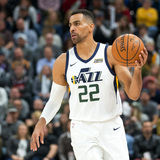 Jazz forward Thabo Sefolosha will have surgery on an MCL injury in his right knee that will sideline him for the rest of the season, tweets Shams Charania of The Vertical.Preliminary estimates give Sefolosha a recovery time of at least six months, according to Marc Stein of The New York Times, which means he should be ready for training camp next season. A final decision on surgery...
LIKE WHAT YOU SEE?
GET THE DAILY NEWSLETTER: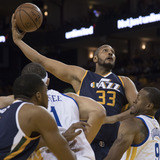 The Utah Jazz signed Thabo Sefolosha, and according to a report, they're not done shaking the roster up. As the Jazz look to add frontcourt depth, one man who may be on his way out of Utah is Boris Diaw, who just wrapped up his first year with the team.Tony Jones and Kyle Goon of The Salt Lake Tribune noted that the Jazz are hoping to add another forward, as well as a center to back...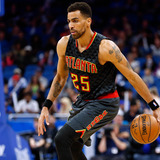 The Atlanta Hawks are working the phones ahead of the trade deadline.Chris Vivlamore of the Atlanta Journal-Constitution reports on Thursday that the Hawks have been "active" with one week to go until the deadline and have talked trades of Thabo Sefolosha and Tim Hardaway Jr. Vivlamore adds that Atlanta could also move Tiago Splitter, who has missed the entire year thus far with...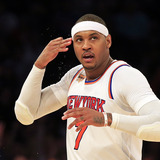 Carmelo Anthony was ejected from Wednesday night's game against the Atlanta Hawks after he was assessed a flagrant 2 foul, and the New York Knicks star believes the call was the result of a flop. On Thursday, Anthony told reporters that Thabo Sefolosha "did his European" by flopping when the two players got tangled up near the basket. "I don't think it was anything Sefolosha was...
New York Knicks forward Carmelo Anthony is usually pretty unassuming on the court. He's most definitely not of the DeMarcus Cousins or Draymond Green ilk. Though, Anthony did get into it with with Atlanta Hawks wing player Thabo Sefolosha in the second quarter of Wednesday night's game. It led to a flagrant 2 foul and an ejection for Melo. Here's the play in question. Carmelo...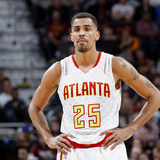 Former Atlanta Hawks center Pero Antic has filed a civil suit against the New York Police Department stemming from an incident last April, with Hawks swingman Thabo Sefolosha reportedly to follow. According to ESPN's Kevin Arnovitz, Antic filed claims of false arrest, unlawful imprisonment, assault, battery, negligence, civil rights violations and malicious prosecution. Sefolosha...
[Editor's Note: Thabo Sefolosha was found not guilty of misdemeanor charges minutes before the publication of this column.] Thabo Sefolosha was a victim of police brutality. The 6'7″ Atlanta Hawks shooting guard was arrested in April of this year for allegedly interfering with an officer after Chris Cooper from the Indiana Pacers was stabbed outside the 1 Oak nightclub in NYC....
Atlanta Hawks guard Thabo Sefolosha was acquitted on Friday of various charges stemming from an incident outside a nightclub in New York City back in April. The Associated Press reports that Sefolosha was found not guilty of misdemeanor obstructing government administration, disorderly conduct and resisting arrest. A Manhattan jury deliberated for less than an hour before reaching...
MORE STORIES >>
Jazz News

Delivered to your inbox

You'll also receive Yardbarker's daily Top 10, featuring the best sports stories from around the web. Customize your newsletter to get articles on your favorite sports and teams. And the best part? It's free!