We've updated our Privacy Policy.
By continuing to use this site, you are agreeing to the new Privacy Policy.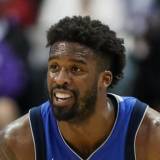 The Mavericks are open to listening to inquiries on Wesley Matthews in advance of the February 8 trade deadline, reports Marc Stein of The New York Times (Twitter link). However, according to Stein, the Mavs only want to move Matthews if they can get a first-round pick in return, since the club views him as "one of its culture-setters."Matthews, who signed with Dallas a a free agent...
The Crystal Ball is a weekly feature forecasting the future for the Wizards week ahead.. This week's games: HOME vs. Houston Rockets AT New Orleans Pelicans AT Dallas Mavericks Lets go Wiz! Wednesday, December 9th HOME vs. Houston Rockets What to Watch: There's a new set of "Twin Towers" in Houston! Dwight Howard and Clint […] The post The Crystal Ball, Forecasting the Wizards Week...
Wesley Matthews is still recovering from an Achilles tear he suffered last season as a member of the Portland Trail Blazers, but his future with the Dallas Mavericks is suddenly looking a lot brighter.  Matthews is renowned for his toughness and ability to play through pain, but recovering from an Achilles injury is a lot different. With the NBA season rapidly approaching, though...
LIKE WHAT YOU SEE?
GET THE DAILY NEWSLETTER:
Dallas Mavericks shooting guard Wesley Matthews has a huge mountain to climb this season. After tearing his Achilles late last season, Matthews will have to recover from one of the most difficult injuries an athlete can sustain.Matthews, however, isn't lacking for confidence. Here's what he told Ben and Skin on KRLD-FM (105.3) via the Dallas Morning News:"I'm not worried about it...
Portland Trail Blazers guard Wesley Matthews has always had a reputation as a tough player with incredible durability, but he's taking it to a whole different level this offseason.After tearing his Achilles in a game against the Dallas Mavericks on March 5th, Matthews is already back in the gym getting up shots. Here's the incredible video Matthews posted on his Instagram account...
Last week, the Trail Blazers lost a valuable member of their team when Wes Matthews went down with what was later determined to be a torn left Achilles tendon. The injury will force Matthews to miss the remainder of this season and generally carries a recovery time of eight to nine months. Prior to Wednesday's...Read More
As the 2014-15 NBA season opener inches closer, I'll be breaking down each player on the Trail Blazers expected to contribute to the team's success. Today, we feature the Iron Man, Wesley Matthews. (Stats provided by NBA.com) How Did He Do Last Year? Like several other Blazers, Matthews had a career year in a few key categories. Of particular interest is his three-point shooting...
Looks like Wes Matthews is not only a huge Team USA soccer fan, but a big fan of Ted. [@wessywes2] The post Wes Matthews Watches Team USA With Ted appeared first on Diehardsport.
He got fouled off a rebound and only made one of two free throws, putting Utah up 3 instead of 4 in a crucial late game situation.  Then he missed a tip in at the buzzer that would've won the game, pretty much the exact same tip in that Gasol made to beat the Thunder in Game 6.  Thanks Wes Matthews for ruining my night, and  for pretty much guaranteeing the Flakers a sweep in this...
MORE STORIES >>
Mavericks News

Delivered to your inbox

You'll also receive Yardbarker's daily Top 10, featuring the best sports stories from around the web. Customize your newsletter to get articles on your favorite sports and teams. And the best part? It's free!