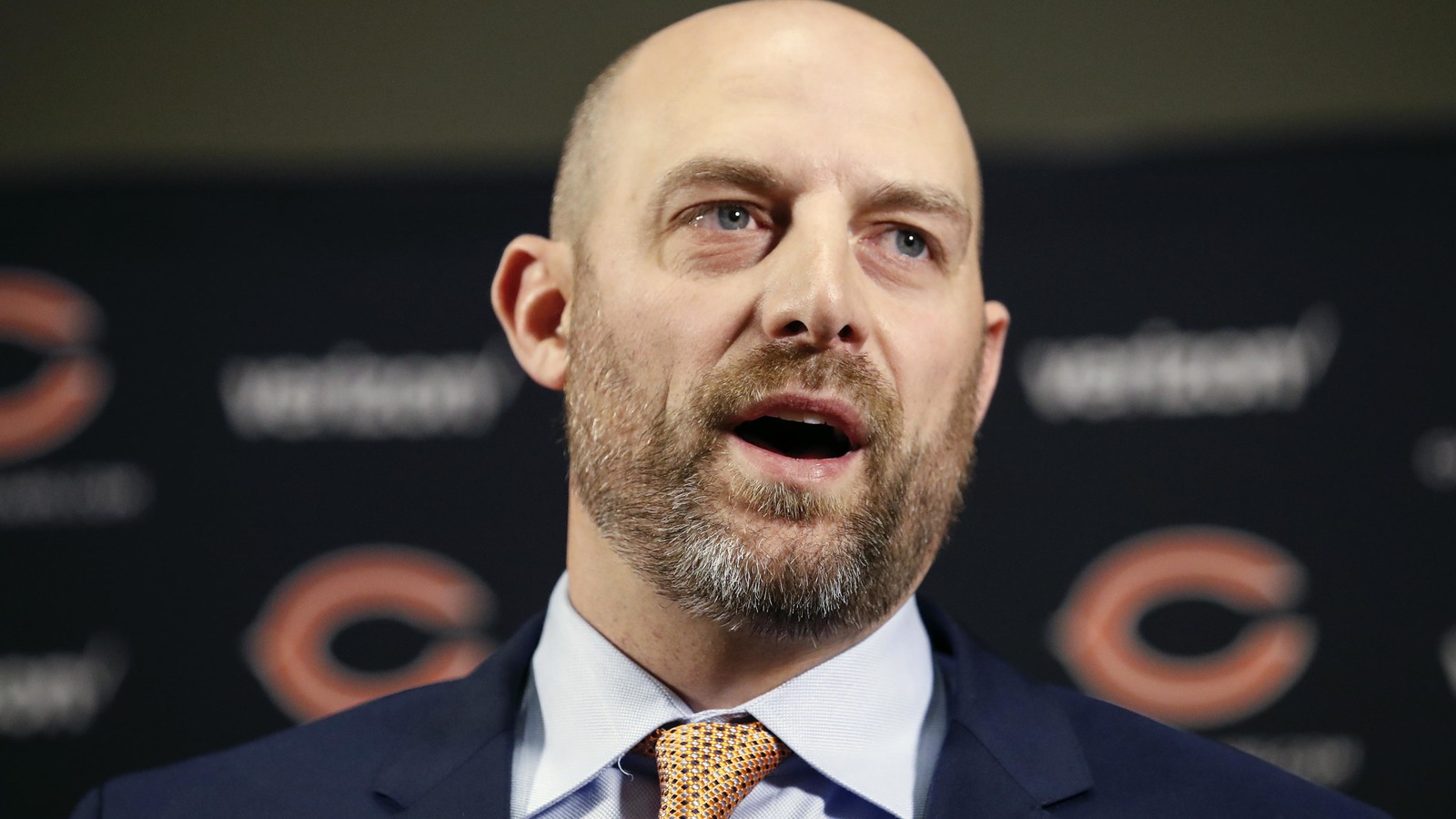 Nagy impressed one writer/radio host very, very much.
Kamil Krzaczynski-USA TODAY Sports
The Chicago Bears introduced a new coach on Tuesday. And at this time, nobody knows if he will be successful or not. But at least he's not what the Bears typically hire. He's not robotic like Dick Jauron, a bore like Lovie Smith, strange like Marc Trestman or lackluster like John Fox.
I was sure Minnesota offensive coordinator Pat Shurmur would be the Bears' selection. He was considered the safe choice, had previous experience, (not that the Bears usually hire someone that has done it before) and his personality was described as boring. I predicted on my radio show Sunday that the Bears would hire him because of the coaches they interviewed. But he was the one guy I didn't want.
When Trestman was hired after a search involving almost 20 candidates, I said at the time I didn't care who the Bears chose as long as it wasn't Trestman. That's why I was shocked when they didn't announce Shurmur as their new coach.
I knew they wouldn't hire a defensive coach. Therefore, George Edwards of the Vikings was a Rooney Rule requirement. They gave a cursory interview to defensive coordinator Vic Fangio too, hoping he stays aboard to run the defense.
That left the real candidates as Shurmur, Josh McDaniels of the Patriots, John DeFilippo of Philadelphia and Matt Nagy—offensive coordinator for the Kansas City Chiefs.
I didn't think McDaniels would come to the Bears, however. So that left Shurmur, DeFilippo and Nagy. My choice was DeFilippo because of the great work he did with QB Carson Wentz, not to mention the high energy he brought with him. After the last several coaches the Bears hired, I didn't want to be lulled to sleep anymore listening to them. I am amazed Lovie never got a deal with Sominex because you could barely last a minute listening to him talk.
Nagy was one of my top two candidates. I would have been okay with either him or DeFilippo until the game on Saturday against Tennessee. Figuring the game was over, I quit watching at half with Kansas City up 21-3. What a mistake that was!
After being impressed by quarterback Alex Smith running the show in the first half, Nagy was looking even better to me. Smith never looked as good as he did with Nagy calling plays for him. Then came the second half. KC got shut down and Nagy admitted in the Bears press conference that he called every play that ended up putting a big, fat zero on the board. Plays that ultimately left the Chiefs with a disheartening one-point loss.
After that debacle, he had an interview with the Bears Sunday morning. Not very good timing for him. My thoughts were he coached himself out of a job with that loss. I questioned whether hiring him would be a good idea on my show.
But later on, after a bit of thought, I remembered Kyle Shanahan got a job as the head coach of the San Francisco 49ers after his Atlanta Falcons blew a 28-3 lead in the Super Bowl against New England. I thought that game was over too. Everyone did! If you say differently, you are lying.
I couldn't believe some of the calls he was making as the OC, when all you had to do was run time off the clock. Even if Atlanta never scored again, (they didn't) they should have easily won the game. Bad decision-making lost that game.
He seems to have landed on his feet, though. He has done a good job coaching up Jimmy Garoppolo at quarterback. And he even has the 49ers as an early pick to make the playoffs next year.
What that showed me was just because you made some bad decisions doesn't mean you are a bad coach. Nagy said he's going to make more mistakes. It will be a learning process for him, and he acknowledged he will learn from those mistakes and get better. After three years of Fox, his honesty was refreshing.
Working together with GM Ryan Pace will benefit both of them. The fact they seemed to bond so well during the interview is a good sign. A good relationship between the GM and the coach is paramount to the success of the team. I don't think Pace and Fox were ever on the same page. I believe Fox was forced on him as a new GM. Now it appears he got his guy.
Nagy didn't make any promises. He didn't say the Bears were going to win the Super Bowl in the next few years. He didn't come across as a meatball like Lovie did at his press conference many years ago while saying that beating the Green Bay Packers was one of his top priorities.
Instead, he was forthright with his answers and showed some personality. Nagy was excited and enthusiastic about getting the job.
The Bears have some pieces in place and need to add many more, of course. But the most important piece, Mitch Trubisky, is one of the main reasons Nagy was hired for the job. He scouted him last year when the Chiefs were looking to draft a quarterback and fell in love with him. He is confident Trubisky can become a championship-caliber quarterback.
Nagy's success is going to depend on Trubisky's success. If Trubisky becomes a perennial All-Pro, the Bears will be playing a lot of football in January and maybe beyond. Based on my first impression from the press conference, I think the Bears made a good choice. I am much happier with this selection than any in the past several years.
Nagy is a regular guy. He's just like you and me. And he happens to be the new Chicago Bears football coach. And today, I am happy with that.
Are you, Bears fans?
NFL News

Delivered to your inbox

You'll also receive Yardbarker's daily Top 10, featuring the best sports stories from around the web. Customize your newsletter to get articles on your favorite sports and teams. And the best part? It's free!
PLAYERS:
Matt Nagy
,
Lovie Smith
,
Marc Trestman
,
John Fox
,
Pat Shurmur
,
Josh Mcdaniels
,
Kyle Shanahan
,
Mitch Trubisky
TEAMS:
Chicago Bears
,
Atlanta Falcons
,
Kansas City Chiefs
,
Green Bay Packers
,
Illinois Fighting Illini
MORE FROM YARDBARKER
NFL News

Delivered to your inbox

You'll also receive Yardbarker's daily Top 10, featuring the best sports stories from around the web. Customize your newsletter to get articles on your favorite sports and teams. And the best part? It's free!