Originally posted on
Sportsnaut
| Last updated 2/2/15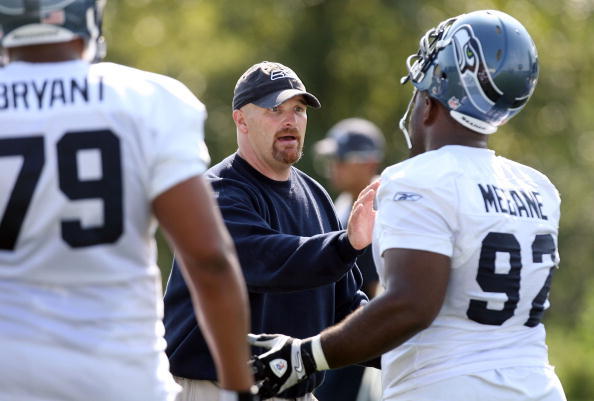 Seattle Seahawks defensive coordinator Dan Quinn reportedly has landed his first head coaching gig with the Atlanta Falcons.
NFL via Getty Images
By Harif Asan
Former Seattle Seahawks coordinator Dan Quinn and the Atlanta Falcons have agreed to a five-year contract, per a report from ESPN's Adam Schefter.
Falcons and their HC Dan Quinn reached agreement on a 5-year contract, per source. Quinn is expected to fly to Atlanta with Falcons today.

— Adam Schefter (@AdamSchefter) February 2, 2015
While it's difficult to tell whether or not a new head coach is a good signing, the signs are positive. Aside from the fact that he brings the experience of having the top defensive unit in football two years running, bringing in Pete Carroll's "always compete" philosophy might shake up problems the Falcons have had on defense putting the best talent on the field, often putting the biggest contract out there instead.
There aren't immediate changes to acknowledge with the Falcons, who on defense play a hybrid front, but as always with a new coaching staff, there should be a difference in attitude and responsibility.
This move may come with a particular sting for Seattle Seahawks fans, who are hearing the news about their talented coordinator leaving hours after a gut-wrenching loss in the Super Bowl.
Quinn does not have any prior head coaching experience, but was the assistant head coach for the Seahawks in 2009 and 2010, having spent almost all of his coaching career as a defensive line coach or a defensive coordinator. Prior to his 2013-14 stint in Seattle as the DC, he was the defensive coordinator and defensive line coach at Florida for two years, a Seahawks assistant head coach (and defensive line coach) for two years and spent time in the NFL with the New York Jets, Miami Dolphins and San Francisco 49ers.
It is not known at this time what the terms of the deal are or who Quinn plans on bringing in as a coordinator, though Atlanta has retained their coaches in case the new head coach wants to keep them — except for offensive line coach Mike Tice, who was critical in rebuilding a beleaguered unit, and Dirk Koetter, currently the offensive coordinator for the Tampa Bay Buccaneers.
Hiring a coach this late in the process is unusual, but Quinn was an in-demand candidate. It remains to be seen whether or not this delay will impact his ability to hire coordinators.
MORE FROM YARDBARKER
NFL News

Delivered to your inbox

You'll also receive Yardbarker's daily Top 10, featuring the best sports stories from around the web. Customize your newsletter to get articles on your favorite sports and teams. And the best part? It's free!