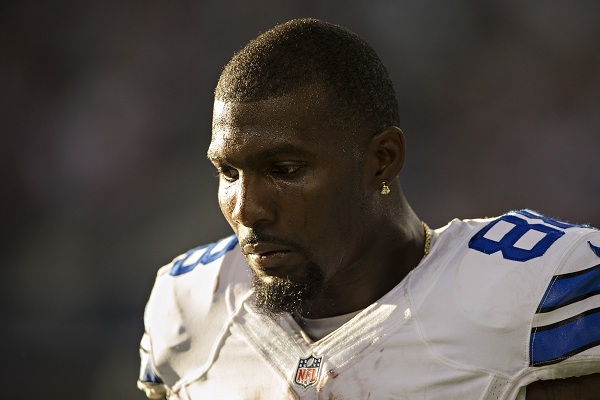 Dez Bryant is one of the NFL's best WRs, but a rumored 'explosive' video may keep him from getting a big contract from the Cowboys.
Wesley Hitt/Getty Images
By Larry Brown
Rumors about a video involving Dez Bryant may be keeping the Dallas Cowboys from signing the dynamic wide receiver to a long-term contract.
Bryant is set to be a free agent and the Cowboys recently said they are likely to use the franchise tag on him. That is a surprise because with a player as good as Dez is, you figure they would be eager to lock him up. But chatter about a potentially explosive video involving Dez may be the reason for the hold up.
Pro Football Talk's Mike Florio, who is a national reporter, joined Shan and RJ on 105.3 the Fan in Dallas Friday and all three talked about the rumor.
The conversation started with Shan and RJ talking about the alleged video, and then Florio, who was set to be a guest, jumped in and confirmed he'd heard the rumor too.
"It's one of the best-kept secrets in the media because no one's reported it yet," Florio said of the video.
Florio went on to say that all of the media insiders know about the supposed tape and have known about it for months. He says the Cowboys have known about it for months and that that is the reason the team is hesitant to spend money on him.
"I don't even know that the tape exists," Florio said of the video. "That's just the chatter … that there's video of some incident that the Cowboys are afraid is going to come out and have a Ray Rice-type impact on Dez Bryant over the longhaul."
Florio continued to question the existence of the video.
"It may not even exist. It may be an urban legend. But people think that's what's keeping the Cowboys from making the long-term commitment to him. I don't know that that exists, I just know that's the chatter."
Many believe this tweet sent by Dez Friday was in response to rumors about a video.
February 20, 2015
That whole point about the Ray Rice-like impact is the major concern. After video of Rice got out, there was a ton of pressure on the NFL and Ravens to act, and they did by suspending him. It's one thing to hear about a potential incident involving a player, but seeing video of it is so powerful it has the potential to spark outrage much more than words can.
As for the Cowboys' reluctance to sign Dez long term, there was a report in November that Jerry Jones still had concerns about Bryant's off-field issues. Perhaps this was the exact issue about which he was worried. Another report said Jerry was unhappy about Dez switching agents to Roc Nation. And we know that as of last year, the Cowboys still had special rules for Bryant off the field. When you add everything together, it makes more sense why they haven't signed him yet.
Below is audio of the interview:
MORE FROM YARDBARKER
Cowboys News

Delivered to your inbox

You'll also receive Yardbarker's daily Top 10, featuring the best sports stories from around the web. Customize your newsletter to get articles on your favorite sports and teams. And the best part? It's free!