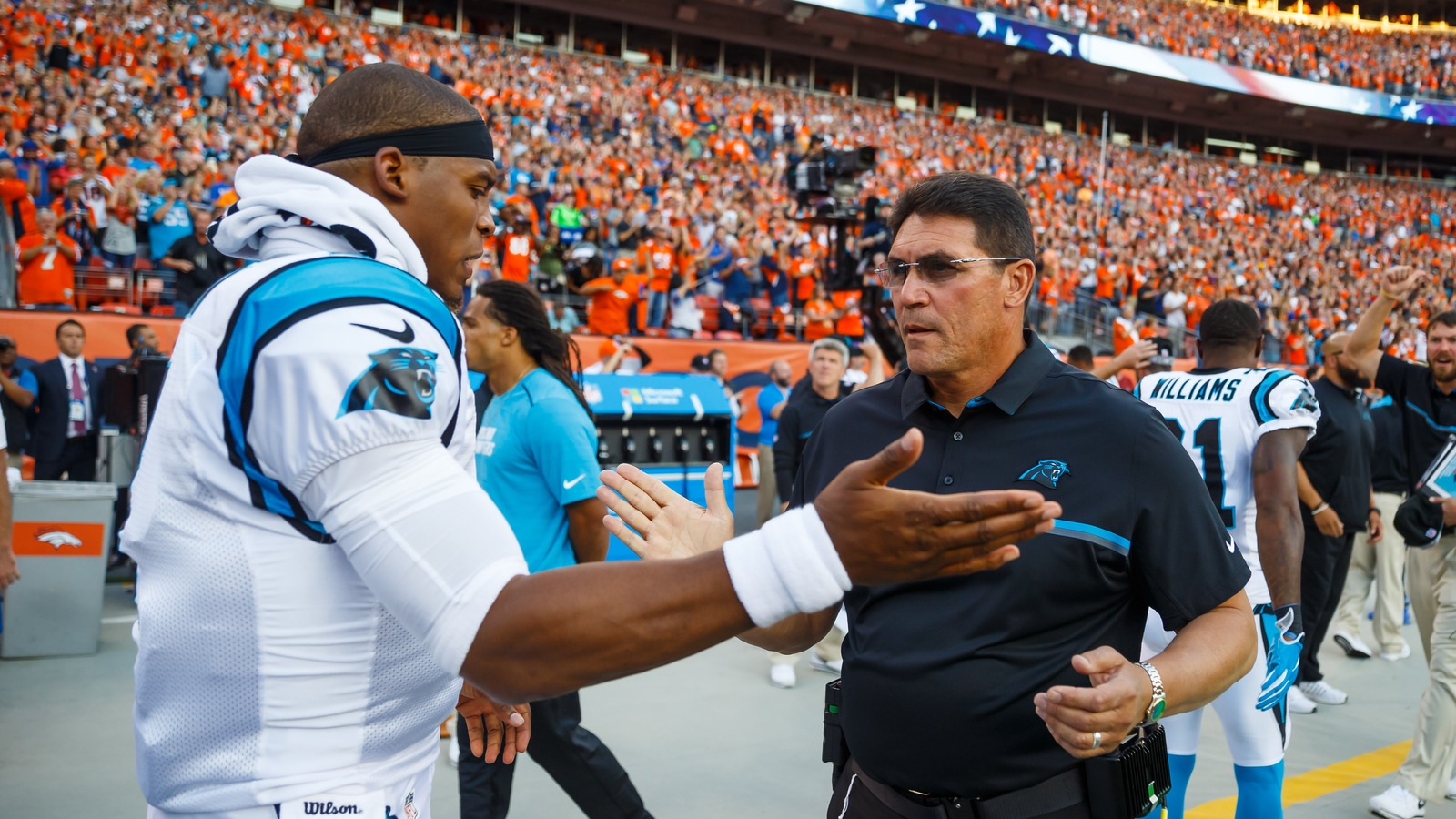 Can Cam Newton and Ron Rivera lead the Panthers on another Super Bowl run.
USA TODAY Sports
The Carolina Panthers experienced a bad Super Bowl hangover in 2016, falling from 15-1 to 6-10 and the NFC South cellar. Their season was a personification of the phrase: Everything that can go wrong, will go wrong.
Quarterback Cam Newton became a punching bag, the running game fell apart, wide receiver Kelvin Benjamin's return was disappointing at best, star linebacker Luke Kuechly suffered a terrifying concussion and was out for the remainder of the year. Even as early as Week 1, when kicker Graham Gano missed a 50-yard field goal that would have given the Panthers a win in Denver, everything that could have gone wrong, went wrong.
Coming into this season, things look different. That's in large part because logic dictates that many things can't go wrong again. But the Panthers took steps toward fixing a lot of what needed fixing offensively. The biggest thing they did was drafting running back Christian McCaffrey in the first round.
McCaffrey will spark a fundamental shift in Carolina's offense. The Stanford product's upside is in the passing game. He has good hands, a solid route tree (for a running back) and racks up yardage after the catch. Simply put, he is a perfect fit for a team that loves to throw it short. Before now, the Panthers haven't been that team. Per Cian Fahey's charting, Newton led the league in average depth of target last season. Carolina, in the past, has been a vertical offense.
Many have pointed out the shift and argued that it takes away Newton's best skill: throwing to intermediate and deep areas of the field. But building around that skill was the catalyst for the battering Newton took last season. Because Carolina's tackles were unreliable (a problem that still exists), their quarterback got destroyed by standing in the pocket waiting for his receivers to get open downfield. McCaffrey allows that calculus to change. Now Newton has someone whom he can trust if he needs to check down or defenders are coming at him. Carolina will likely feature more designed screens and short passes then before, but the biggest change that comes with McCaffrey will be Newton checking down more often. That is a net positive.
We shouldn't overlook what McCaffrey can do in the run game either. He displayed great ability between the tackles, in the open field and as a cutter, complementing a strong burst. To boot, McCaffrey was great after contact. According to Pro Football Focus, he was not tackled on first contact 31.8 percent of the time last season.
Second round pick Curtis Samuel may be another beneficiary of a reworked offense. Samuel — an H-back at Ohio State — isn't yet ready to play receiver full time. His route tree and hands aren't there yet, if college tape is any indication. However, given his ability as a runner in the open field, offensive coordinator Mike Shula will likely feed him with a heavy dose of screen passes.
As for the rest of the receiving corps, it's a cast of familiar names. Kelvin Benjamin is looking for redemption after a disappointing 63-catch, 941-yard 2016. Benjamin ranked just 31rd in DYAR and 46th in DVOA last season. He could be the fulcrum upon which the downfield passing game turns. A successful season gives Newton a second threat to go with Greg Olsen downfield and four weapons to work with. Another ho-hum year and the Panthers may struggle to harness Newton's passing ability.
Olsen, the tight end, further established himself as a star last season. He posted over 1,000 receiving yards for the third straight year and ranked second among tight ends with an 88.5 PFF grade. At 32, he may be on borrowed time, but at this point in his career, Olsen deserves the benefit of the doubt.
Don't expect much from Devin Funchess. He's the No. 3 receiver on the depth chart, but in reality, Funchess may get fewer targets than Olsen and McCaffrey. Funchess is only in his third season, but after contributing next to nothing and catching just 40 percent of targets last season, he may be playing for his football life.
Former general manager Dave Gettleman's failure to address Carolina's problems at the tackle position is probably the only justifiable reason for his stunning firing on the eve of training camp. Newly acquired left tackle Matt Kalil was a signing that qualified as curious at best and outright stupid at worst. Kalil, who played just two games last season before getting hurt, is one of the worst offensive linemen in football when healthy. It was stunning when the Panthers gave him $55 million in free agency, as Kalil's contributions for the Minnesota Vikings have amounted to the same as a revolving door would have done in his position. At right tackle, Daryl Williams is a slight upgrade over Mike Remmers, but he blew 11 pass blocks in just 388 pass blocking snaps, per Football Outsiders' Almanac.
The interior of the line is a different story. Guards Andrew Norwell and Trai Turner are among the best players in the league at their positions. Norwell ranked 12th at the position with an 84.2 PFF grade last season. While Turner's numbers weren't as impressive, that was largely because he was forced to move to right tackle for part of the season. Assuming that doesn't happen again, expect a return to form for the 24-year old. Center Ryan Kalil — yes, Matt's brother — is 32 and coming off an injury, so it's not unfair to have questions. However, Kalil was an All-Pro as recently as 2015 and played well in eight games last season. In other words, until we see Kalil start to decline, we won't presume anything.
As for Newton himself, the quarterback is coming off the worst year of his career. He had -60 DYAR and a -12.9 percent DVOA, ranking 27th and 28th among quarterbacks, to go with a career-low 3,509 passing yards. If the additions of McCaffrey and Samuel go as planned, Newton's health will likely be less of an issue, as he won't be a standing target in the pocket quite as often. A healthy Newton probably means a resurgence this season — the 2015 MVP was very clearly affected by the hard hits he took with alarming frequency last season.
For all the criticism lobbed at Gettleman for letting Josh Norman go (including from Norman himself), the Panthers' defense didn't suffer too much from it. Carolina ranked tenth in defensive DVOA and fifth in weighted defensive DVOA last season, a downgrade nowhere near as bad as the one suffered by the offense.
Two years out, it feels safe to say letting Norman go was the right move. James Bradberry did a good job replacing Norman in his rookie season, ranking ninth among corners with 6.0 adjusted yards per target according to FOA, and 19th at the position in PFF grading. At age 24, Bradberry could get even better.
Moreover, there's actual depth at cornerback, which almost certainly wouldn't be the case had the Panthers committed big money to Norman. Carolina brought in Captain Munnerlyn this offseason at nickelback, a solid piece. He allowed 6.9 adjusted yards per target last season, according to FOA. Daryl Worley, a third-round pick in 2016, was another good find by Gettleman. In his rookie year, Worley had a 54 percent success rate, which ranked 15th among corners per FOA. He also gave up just 7.1 adjusted yards per target.
Safeties Kurt Coleman and Mike Adams aren't great, but they won't be the reason this defense falls apart. Coleman had a solid 76.5 PFF grade last season, while Adams finished 21st in PFF grading at the position. It's worth worrying about the latter's age — at 36, Adams is going to see some decline — but the Panthers don't need huge contributions from their safeties.
The linebacking corps is the best part of the defense. Luke Kuechly played just 10 games last season because of a concussion but was one of the best defensive players in football. His 93.1 PFF grade ranked second among linebackers, and there really isn't a weak point to his game. Kuechly can play at an elite level in coverage, run defense and as a blitzer, making him one of the most valuable players in football. Next to him, Thomas Davis is 34 years old but doesn't seem to be slowing down after finishing second among linebackers at 4.2 adjusted yards per target, according to FOA. When Gettleman drafted Shaq Thompson in the first round of the 2015 draft, it seemed needless because the Panthers had Kuechly and Davis already. However, Thompson seems well on his way to stardom. The 23-year old ranked 13th at the position with an 85.0 PFF grade last season. He was top five at the position in both run stop rate and adjusted yards per target last season, according to FOA. As Davis fades, Thompson seems more than ready to pick up the load.
The front four was great last season and it will probably be great this season. Carolina ranked fourth in adjusted line yards and seventh in pressure rate, per FOA, and brought back all of its players, the lone exception being Kony Ealy.
Kawann Short has quietly carved out a place as one of the best defensive tackles in football. The 28-year old's 90.0 PFF grade was third among interior defenders last season and his 91 percent run stop rate was seventh, per FOA. To boot, Short put up 6.0 sacks, 13 hits and 23 hurries, per FOA. Next to him, Star Lotulelei is the closest thing to a weakness the line has, but everything is relative. Lotulelei ranked 18th among defensive linemen with 1.5 average rushing yards per tackle last season, according to FOA.
On the edge, Mario Addison and Charles Johnson are both great. Addison had 9.5 sacks, five hits and 20 hurries last season, per FOA. Despite not being known as a strong run defender, he also had a solid 78 percent stop rate, per FOA. Johnson experienced the same dynamic, with an 86 percent stop rate, per FOA, despite being used mostly on passing downs. He's also a good candidate for sack regression in a positive direction after putting up 25 hurries, nine hits and a relatively low 4.0 sacks last season, per FOA.
Johnson and Addison's contributions in run defense last season soften the blow of losing Ealy in a big way. Wes Horton will still play early downs after throwing up an 88 percent stop rate last season, per FOA, but the coaching staff could have more trust in Johnson and Addison in those situations. Expect Lavar Edwards to see early down snaps as well. Of course, we'd be remiss to forget about the re-acquisition of Julius Peppers, who figures to rotate in on passing downs.
This is a roster that should aim high. At minimum, the Panthers should compete for the division and gain a wild-card berth.
If things break their way, Carolina could be a Super Bowl contender again.
MORE FROM YARDBARKER:
QUIZ: Name the last Pro Bowl QB for each NFL team
An invitation to the Pro Bowl recognizes great play throughout the season. Can you name the last Pro Bowl quarterback for each NFL team?
Clue: Team-Year
MORE FROM YARDBARKER
Panthers News

Delivered to your inbox

You'll also receive Yardbarker's daily Top 10, featuring the best sports stories from around the web. Customize your newsletter to get articles on your favorite sports and teams. And the best part? It's free!