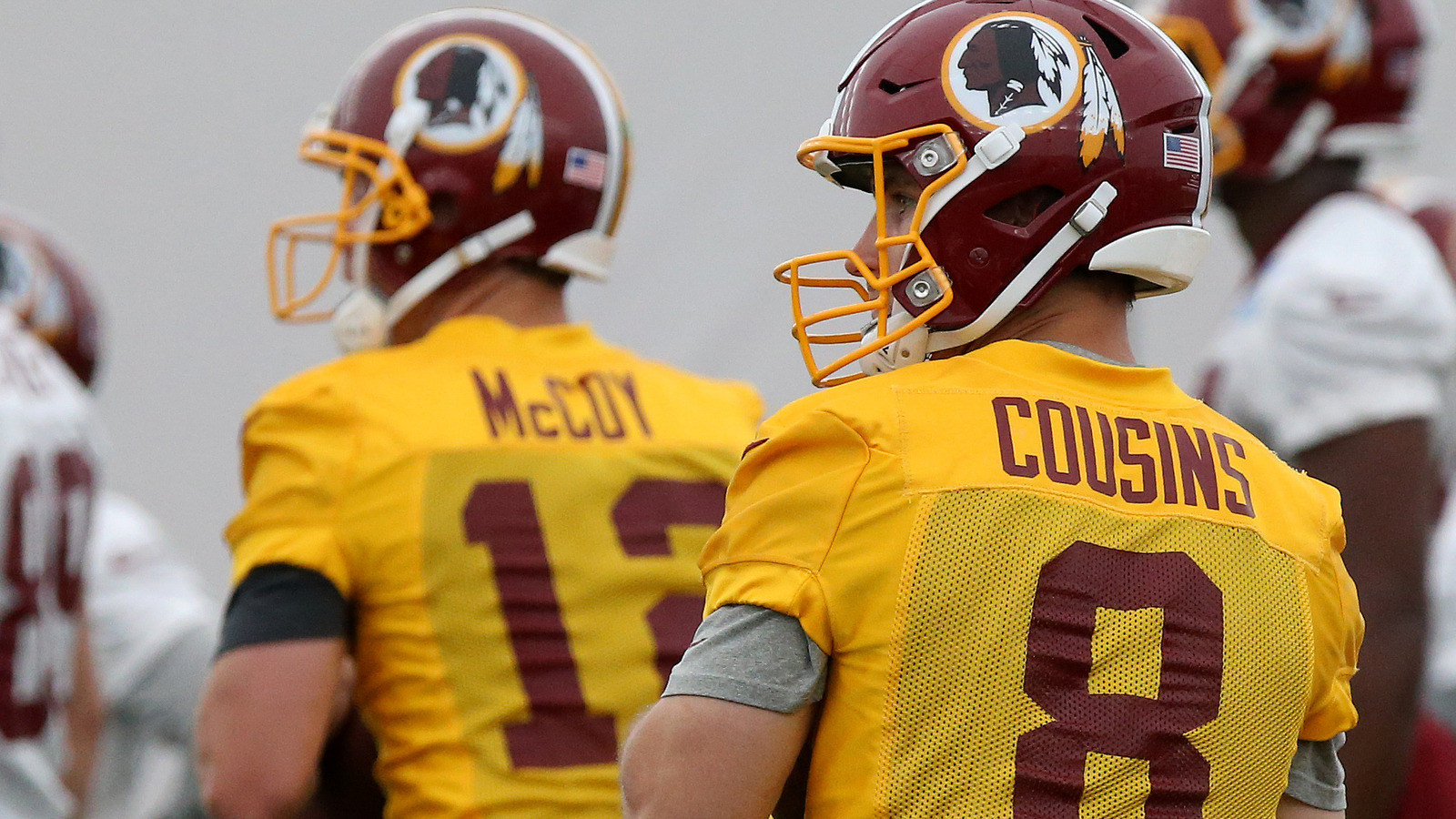 May 24, 2017; Washington, DC, USA; Washington Redskins quarterback Kirk Cousins (8) and Redskins quarterback Colt McCoy (12) participate in drills as part of Redskins OTAs at Redskins Park. 
Geoff Burke-USA TODAY Sports
The Washington Redskins and quarterback Kirk Cousins have exactly seven days — until July 17 — to agree on a long-term deal or get locked into a second season in which the veteran plays on the franchise tag.
As of Monday morning, the chances of a long-term deal getting done remain a long-shot, reports John Keim of ESPN. And those surrounding Cousins are pessimistic that's going to change in time to beat the deadline.
Cousins' agent, Mike McCartney, has met with Redskins president Bruce Allen on at least two occasions since late March. It's uncertain if the Redskins have made a stronger pitch than the five-year, $20 million-per-year offer made before the combine. Multiple sources close to Cousins have remained pessimistic; that hasn't changed in a long time.

. . . .

A deal remains a long shot. It's been that way for a long time.
Currently, Cousins is scheduled to earn $23.9 million in guaranteed money by playing under the franchise tag and could earn $50 million or more in guaranteed money next year during free agency. Accordingly, he holds all the leverage in negotiations and it would take a massive offer from the Redskins to get him signed.
But even if Washington were to make Cousins an offer that parallels those numbers, the quarterback could opt to sit on the franchise tag and see how things develop over the course of the season. There are a lot of waters left to test and he may not want to commit himself long-term to the Skins.
Ultimately, the reasons for pessimism are obvious. The two sides are incredibly far apart and that gap doesn't appear capable of being bridged in a calendar week.
MORE FROM YARDBARKER:
QUIZ: Name every prominent quarterback in the history of the Washington Redskins
While there are obscure quarterbacks who threw passes for the Washington Redskins, the QBs featured in this quiz were the 'top passer' for the team that year, according to the number of yards passing. We have identified 29 (with some repeats), how many of them can you name?
Clue: Years active
MORE FROM YARDBARKER
Redskins News

Delivered to your inbox

You'll also receive Yardbarker's daily Top 10, featuring the best sports stories from around the web. Customize your newsletter to get articles on your favorite sports and teams. And the best part? It's free!