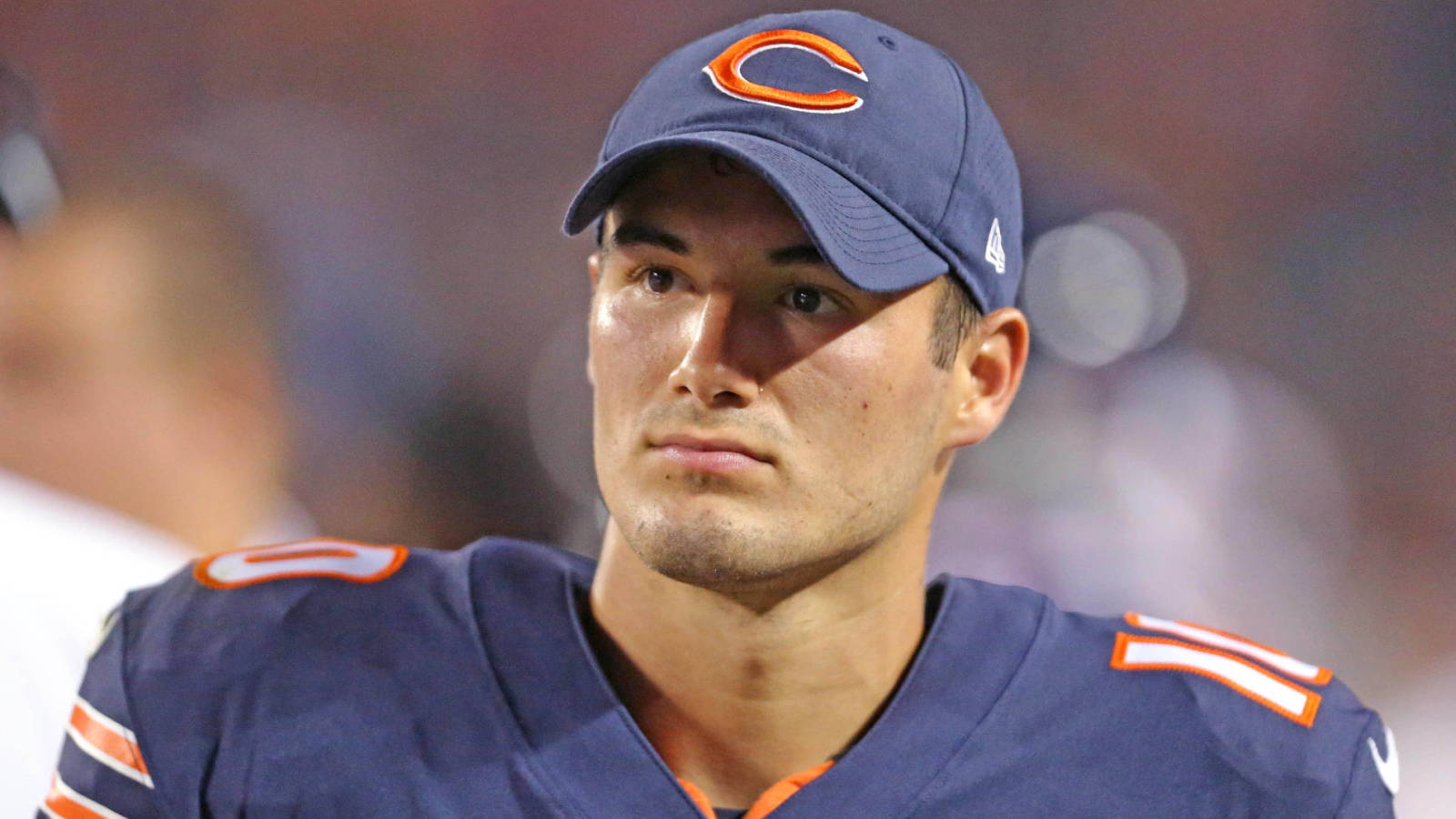 Can Chicago Bears quarterback Mitchell Trubisky have another strong outing in the second preseason game?
Dennis Wierzbicki-USA TODAY Sports
Week 1 of the NFL preseason brought us more drama and intrigue than we're accustomed to. Multiple young quarterbacks impressed their teams big time, pretty much putting veterans on notice. That was no more apparent than in Chicago, where Bears rookie signal caller Mitch Trubisky put up one heck of a performance.
Heading into Week 2 of the exhibition slate, we're definitely going to want to see how these rookie signal callers perform. On the same note, a veteran of more than a decade will be starting his first game for the Miami Dolphins. How will Jay Cutler look in his debut in South Beach?
Here is a look at the top storyline for each Week 2 NFL preseason game.
Baltimore Ravens at Miami Dolphins: Jay Cutler's Dolphins debut
Cutler will make his Dolphins debut Thursday against the Ravens. This is incredibly important, as the veteran missed out on the entire offseason program after initially retiring from the NFL. While Cutler has reportedly looked good in practice, it's important for him to get in-game reps with the Dolphins' first-team offense, Jarvis Landry and DeVante Parker included. He will also be going up against a solid Baltimore first-team defense. This will surely be a nice test for a quarterback who's being called on to replace the injured Ryan Tannehill for a playoff contending team.
Buffalo Bills at Philadelphia Eagles: The trade
New Bills wide receiver Jordan Matthews might not make his debut for the team against his former squad. Matthews injured his chest in his first practice with the Bills over the weekend. With that said, it's still rather interesting that these two teams will be going up against one another less than a week after the blockbuster trade.
Should Matthews actually play, it will be pretty cool to see him take on Ronald Darby — the player he was traded for. In reality, the two would be lined up against one another on a consistent basis should Matthews suit up. It will be an early indicator of who won this trade heading into the season. If not, we're still going to be interested to see how Darby performs for an Eagles secondary that has been a disaster this summer.
Tampa Bay Buccaneers at Jacksonville Jaguars: Blake Bortles under fire
Bortles completed 3-of-5 passes for 16 yards in limited action in his preseason debut. He was replaced under center by veteran Chad Henne, who proceeded to complete 5-of-6 passes for 139 yards, including this touchdown strike to Keelan Cole. Whether it was due to this performance of Bortles simply being given a day off, Henne took first-team reps with the Jags this past weekend.
Let's not make a quarterback controversy out of nothing. But should Henne continue to outperform Bortles on the field, it would not be an absolute shock to see him earn the starting gig to begin the regular season. After all, the Jaguars have made it clear where they stand on Bortles and his turnover proneness, and certain members of the team appear frustrated with the quarterback.
Minnesota Vikings at Seattle Seahawks: The running backs
Thomas Rawls got the start and saw first-team reps over Eddie Lacy on Sunday. He responded by putting up just five yards on two attempts in Seattle's blowout 48-17 win over the Los Angeles Chargers. Meanwhile, Lacy himself tallied just 10 yards on four rushes. Needless to say, nothing was really decided in a game that saw Seattle's starters play one possession.
On the other hand, we're pretty darn sure the Vikings were making a point with rookie second-round pick Dalvin Cook in their preseason opener last week. Cook touched the ball on each of the team's first three plays and ultimately racked up 43 yards on nine touches. Minnesota is definitely looking for the former Florida State star to be a major part of its offense as a rookie. It's in this that it will be interesting to see how both the Seahawks and Vikings utilize their plethora of talent in the backfield.
Carolina Panthers at Tennessee Titans: Christian McCaffrey
The rookie from Stanford didn't see the field a whole lot in his NFL debut, but he was definitely utilized when out there with the first team. McCaffrey ran the ball seven times for 33 yards, displaying the field vision and speed that made him a top-10 pick. Though, the Panthers failed to use him in the passing game. He caught zero passes on just one target.
We're going to want to see Carolina actually take advantage of what this running back brings to the table. That includes lining him up out wide or in the slot on third downs and giving him the ball on screens. While this didn't happen in his debut, there's no real reason to believe it won't happen moving forward.
Kansas City Chiefs at Cincinnati Bengals: Pat Mahomes's chance to shine
Mahomes has been promoted to the second team following a strong debut against the San Francisco 49ers last Friday. This means that he might actually see snaps against the Bengals' first-team defense in Week 2 of the preseason. As with other young quarterbacks, that's going to be the biggest key for the Texas Tech product. How does he perform against better competition?
Sure there's been some buzz about Mahomes actually beating out Alex Smith for the starting job, but that's primarily been limited to the Chiefs' fan base. Continued strong play from a youngster Kansas City gave up a bounty to trade up for would potentially make this a real quarterback competition. That starts this week against Cincinnati.
Indianapolis Colts at Dallas Cowboys : The backup quarterbacks
Ouch. That's pretty much the only way we can describe the likes of Scott Tolzien, Kellen Moore and Luke McCown. The three have looked absolutely horrendous during training camp and the preseason. For the Colts, it's going to be important for Tolzien to actually show his stuff on the field. The team recently admitted Andrew Luck might not be ready for Week 1. If that's the case, Indianapolis simply needs Tolzien to play better.
For Dallas, it's rather simple. If Dak Prescott misses substantial time to injury, the team is in incredible trouble. Moore has not shown a darn thing to warrant him being even a stopgap option. Meanwhile, McCown was recently signed off the street. He closed up shop in Dallas' second preseason game, looking the part of a watered-down career backup in the process. It might now be time for both teams to hit the free agent market at quarterback. Continued struggles from these backups this week will magnify that even further.
New York Jets at Detroit Lions: Christian Hackenberg elevating his game?
Hackenberg looked much better than we anticipated in the Jets' preseason opener. Though, that's not a ringing endorsement by any stretch of the imagination. The former second-round pick also fumbled twice, losing one in the Jets' 7-3 win. It also goes without saying that Josh McCown is in the lead to earn New York's starting job.
With that said, the Jets need to figure out what they have in Hackenberg. If this means giving him more run in the preseason and actually allowing the Penn State product to see regular-season action, so be it. New York will likely be picking in the top five of next year's draft, so it's going to want to see what Hack brings to the table over the short term.
Green Bay Packers at Washington Redskins: Home team's running back situation
Yuck. That's probably the best way to describe how Rob Kelley, Matt Jones and Samaje Perine performed in Washington's preseason opener. The three combined for just 16 yards on 12 rush attempts against a solid Baltimore Ravens front seven. That's simply not going to get it done.
Now, taking on a Packers defense that yielded the eighth-fewest rushing yards in the NFL last season, the Redskins need to get down to brass tax on the ground. If this doesn't happen, Kirk Cousins will definitely see a downtick in overall production.
New England Patriots at Houston Texans: Deshaun Watson building off strong debut
We're expecting Watson to continue getting play with Houston's first-team offense this week. He saw limited time in that capacity in the rookie's preseason NFL debut. That also led to Watson dominating the Carolina Panthers' second- and third-team defenses. Needless to say, Houston wants to see how Watson performs against opposing teams' starting defenses.
What better time than now for this to happen? New England will likely be throwing out a top-10 defense this season. It will also play starters for at least some of the first quarter. Coming off a game that saw him put up 203 total yards and a touchdown, Watson will look to build off that strong performance here.
Denver Broncos at San Francisco 49ers: Who steps up for Broncos?
Trevor Siemian has not been good during training camp. The dude has shown very little in terms of giving Denver confidence that he can be the starter. Though he's definitely performed better than second-year player Paxton Lynch, and that's the crux of the issue for Denver. Can either of these quarterbacks be good enough to lead the Broncos to the playoffs?
Last week saw Siemian and Lynch combine to complete 12-of-16 passes for 93 yards. It wasn't a stellar performance, but that type of game-managing ability is all that Denver needs. Now set to take on an uber talented 49ers defense, it will be interesting to see which one of these guys steps up in the Broncos' second preseason game.
Chicago Bears at Arizona Cardinals: Mitch Trubisky vs. Mike Glennon
If last week was any indication, the Bears are going to face a difficult decision under center heading into the regular season. In his first appearance with the Bears after signing a lucrative free agent contract, Glennon was absolutely horrible against the Denver Broncos. He completed 2-of-8 passes for 20 yards with an interception and was involved in another turnover in his limited action.
Meanwhile, Trubisky impressed big time in his preseason debut. He gained 204 total yards while completing an efficient 18-of-25 passes. Though, it must be noted that the North Carolina product did this against Denver reserves. We're going to want to see John Fox and Co. actually put Trubisky in the game against Arizona's starters. That will be key for the youngster moving forward.
Los Angeles Rams at Oakland Raiders: Raiders pass defense
Sean Smith and the rest of the Raiders' secondary were downright atrocious against the Arizona Cardinals in the team's preseason opener. Smith himself was called for two penalties in limited action, as the Raiders made Drew Stanton and Blaine Gabbbert look like quality starters. That's hard to do.
Now set to take on an improved Rams offense and new acquisition Sammy Watkins, the Raiders will have their hands full this weekend. How the secondary performs will be telling here. If this unit struggles against Jared Goff and Co., it could be a sign that Super Bowl contention was nothing more than a pipe dream.
Atlanta Falcons at Pittsburgh Steelers: Martavis Bryant's preseason debut
We're fully expecting Bryant to play in this one after he was reinstated on a conditional basis by the NFL. It's also going to be key for him to gain valuable reps with Ben Roethlisberger and the Steelers' first-team offense after more than a year away from the team.
Should Bryant remain clean off the field, he will likely enter the season as Pittsburgh's starter. It's in this that he needs to display the dominant traits we saw during a breakout 2015 campaign. Potentially taking on Falcons Pro Bowl cornerback Desmond Trufant, this week will be a good test for Bryant.
New Orleans Saints at Los Angeles Chargers: Chargers' struggling defense
Not only did the Chargers yield an absurd 48 points in the team's preseason opening loss to the Seattle Seahawks, but starting MIKE linebacker Denzel Perryman was lost for what is likely a long-term injury. That's most definitely not a good sign for a team that struggled on this side of the ball during a disastrous 2016 season.
If we thought Seattle threw the house at the Los Angeles' defense last week, wait until Drew Brees and Co. hit up Carson this weekend. They will definitely have the Chargers' defense on its toes. Whether that translates to a better performance from a unit that allowed 458 yards last week remains to be seen.
New York Giants at Cleveland Browns: DeShone Kizer continuing to shine?
We are asking Hue Jackson to actually give Kizer run against the Giants' first-team defense this week. It's the only way Cleveland will be able to decide whether the rookie second-round pick is ready to start during his inaugural season in the NFL. After all, Kizer was absolutely brilliant in his NFL preseason debut.
With the likes of Jason Pierre-Paul and Landon Collins lined up on the other side, this will act as a tremendous test for the wide-eyed Kizer. Why not give him this opportunity against one of the more-talented defenses in the NFL? That's ours two cents.
MORE FROM YARDBARKER:
QUIZ: Name every Chicago Bears starting quarterback since their Super Bowl XX win
Since their Super Bowl XX win, the Chicago Bears have started 36 different quarterbacks under center at some point or another. How many can you name?
MORE FROM YARDBARKER
NFL News

Delivered to your inbox

You'll also receive Yardbarker's daily Top 10, featuring the best sports stories from around the web. Customize your newsletter to get articles on your favorite sports and teams. And the best part? It's free!