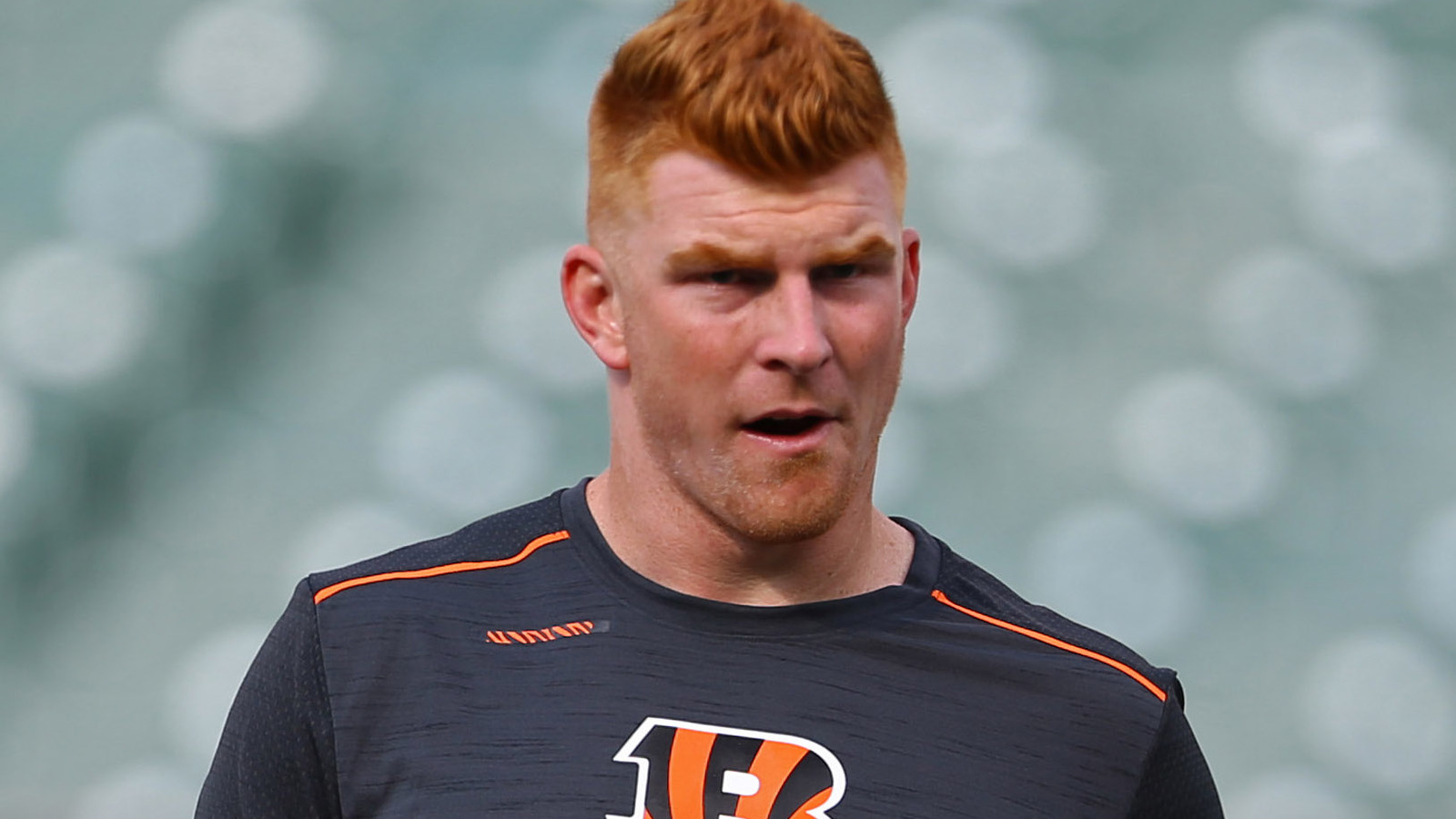 Bengals quarterback Andy Dalton is looking for a big season.
Aaron Doster-USA TODAY Sports
The 2017 NFL season is upon us. And with it, come new storylines! Although much of them will surround suspensions, holdouts and fantasy football, there are a few things to look out for this season.
Can the Cowboys rely on Dak Prescott to replicate a tremendous rookie season? Can the 'Boys still make the playoffs without their star running back? Will the Patriots make it back to the Super Bowl? Could they really repeat? And can the Falcons do the same? Which teams can upset their divisions and run the conference table?
The parity in the NFL always keeps matters interesting. But this year feels a little different than most. Many of the seasoned quarterbacks that have dominated the NFL are on their way out while a new generation approaches. The Derek Carrs, Jameis Winstons and Marcus Mariotas look poised to take this year by storm. But, that'll be decided when their season actually starts.
On the other side, quarterbacks in between top-tier guys like Tom Brady, Aaron Rodgers and Drew Brees and the new generation of QBs are stuck in football limbo. A few will stay in the middle of the pack, of course. But some of them will be hitting the prime of their careers with not much to show for it up to this point. Those quarterbacks are entering a "make or break" season. And, their careers may or may not depend on it. These are those quarterbacks.
Matthew Stafford
Matthew Stafford just received the largest NFL contract in history so this isn't much of a make or break season. But the question needs to be asked: Is he that good? By the numbers, it looks like it. Stafford has thrown for over 4,000 passing yards and at least 20 TDs every season that he's been a starter. However, it's in the win column where the numbers don't favor him. The Lions have made the playoffs three times in his seven (full) years as Lions QB. But they haven't won the division once or even a single playoff game. His record as the Lions signal-caller is an unfortunate 51-58.
Despite his struggling record, Stafford actually holds every major passing record for Detroit. This includes most passing yards, touchdowns and pass completions in a game, season and career. He's had his individual success, now it's time for him to add a few championship banners to the rafters. Stafford is definitely the leader on the team and has earned high expectations, but year after year it's become a regular occurrence to see the Lions just not be good enough. If Stafford cannot take his Lions to the promised land, he'll continue to remain in that middle tier of quarterbacks.
Andy Dalton
Likewise, Dalton is on the brink of breaking through his tier. But he has way more wins to show for it. Since being drafted in 2011, the Bengals have won the division twice—making the the playoffs every season, with the exception of last year. He's also yet to win a single playoff game, but has a very favorable 48-36 record as the Bengals starter. Dalton has hit 3,500-plus passing yards only three times in six seasons while only connecting on 25-plus touchdowns in three of them as well.
The concern about Dalton is that he has had no shortage of weapons. Yet, he can't seem to string wins together at the most important time of the year—January. Whether it's two dynamic backs like Gio Bernard and Jeremy Hill, a promising young tight end in Tyler Eifert, a strong defense to keep him close and one of the best wide receivers in football with A.J Green, he can't seem to put it all together.
For Dalton, this isn't so much about his ordinary numbers or how many games the Bengals win. It's about what games they win and how he wins them. Dalton cannot and will not be totally trusted until he utilizes his weapons. And, starts to play his best football. With the weapons at his disposal, he must show more. If Dalton can break the 4,500-yard mark while taking the very unsteady AFC North for the third time, he'll begin being taken more seriously outside of the regular season.
Andrew Luck
Andrew Luck had a chance to put a dent in the NFL record books for career passing yards and touchdowns. But, he has had a small hitch in his career due to injuries. In his rookie season, he actually threw for 4,374 yards and 23 TDs. The next season, he threw for about 3,800 yards but cut his interceptions in half. Then in his third season, he balled out. He threw for 4,761 passing yards (third-best in NFL) and 40 TDs (best in NFL).
Luck also led his Indianapolis Colts to the AFC Championship Game after winning two playoff games. However, Luck was hampered and mightily slowed down by injuries in 2015—limiting his season to just seven games. Last season, he returned to continue his very promising career with over 4,200 yards and 31 TDs.
Luck's objective this year has to be to get back to his 2014 form. With Luck under center, the Colts went 11-5 in 2012, 2013 and 2014. Luck is right on the fringe of top-tier quarterbacks, and another season where he finishes top-five in yards, TDs and completions/completion percentage is what he needs to reach it.
Another 10-win season would also do the trick. Luck is currently battling a shoulder injury and will miss Week 1, but this season could be the one that could sets Luck apart from the rest. A down year can effectively leave him on that second tier, though. Even if he has the talent to be part of the cream of the QB crop.
MORE FROM YARDBARKER:
QUIZ: Name every quarterback drafted No. 1 overall in the NFL Draft
Going back to 1944, 31 quarterbacks have been selected first overall in the NFL draft.
How many can you name?
Clue: Year of draft
MORE FROM YARDBARKER
NFL News

Delivered to your inbox

You'll also receive Yardbarker's daily Top 10, featuring the best sports stories from around the web. Customize your newsletter to get articles on your favorite sports and teams. And the best part? It's free!