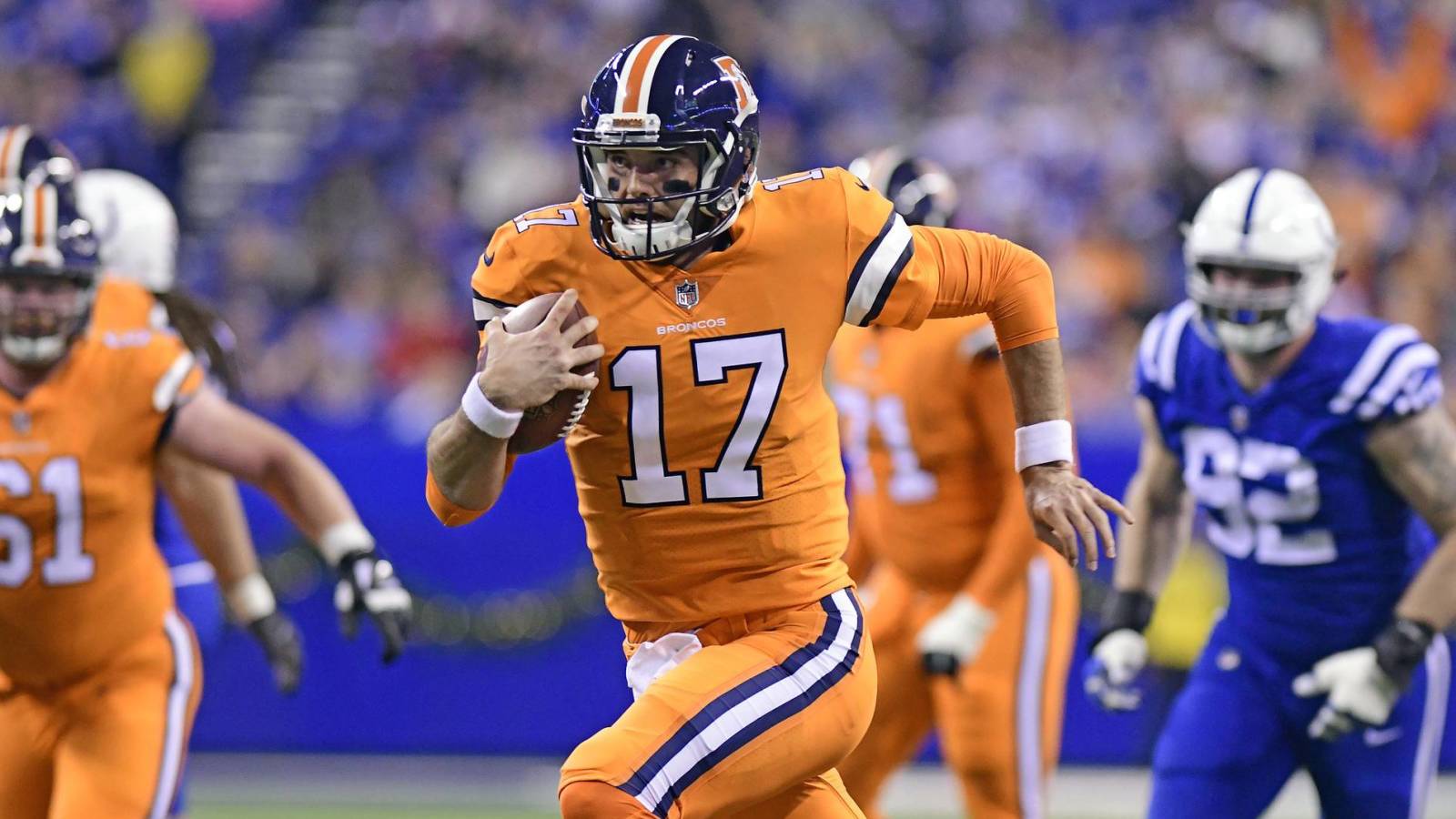 Dec 14, 2017; Indianapolis, IN, USA; Denver Broncos quarterback Brock Osweiler (17) runs towards the end zone in the second quarter against the Indianapolis Colts at Lucas Oil Stadium.
Thomas J. Russo-USA TODAY Sports
The season finale of Thursday Night Football gave us two teams in the Broncos and Colts that have long been out of the playoff race. With no postseason ramifications here, the focus had to turn to individual players — some of whom are battling for roster, spots and another who was looking to make history.
It starts with a veteran in Frank Gore who became just the second running back in NFL history to hit the 1,000 total yard plateau for the 12th consecutive season. Meanwhile, an embattled Broncos quarterback took over early in the first quarter and played potentially the best game of his career.
These are the biggest winners from Denver's 25-13 victory over Indianapolis on Thursday night. But there were also some losers. Let's check in on it all below.
Winner: Frank Gore, running back, Indianapolis Colts 
Less than a week after putting up a career-high 36 rush attempt en route to gaining 130 yards in blizzard-like conditions, the 34-year-old Gore was not in line for an encore performance Thursday night. He gained just 31 yards on 10 attempts in an unassuming outing.
But those 31 yards allowed Gore to tally 1,000 total yards for the 12th consecutive season, joining Emmitt Smith as only the second player in NFL history to accomplish this feat. A sure-fire Hall of Famer, Gore is looking to surpass Curtis Martin for No. 4 on the all-time rushing list in the final two games of the season. The accolades just keep on piling up for this all-time great.
Loser: NFL fans
Let's be honest here. The season finale of Thursday Night Football left a lot to be desired from a drama standpoint. Both Denver and Indianapolis are in last place, having combined for seven wins heading into Week 15.
A season that has actually given us some pretty good mid-week games came to a crashing halt in front of a discouraged Colts fan base that has seen this organization hit cellar-dweller status without Andrew Luck.
And for a suddenly downtrodden Broncos team, their terrible quarterback situation took yet another bad turn with an early-game Trevor Siemian interception and an appearance from Brock Osweiler after Siemian went down with a shoulder injury.
The NFL couldn't have anticipated that this would be the worst game on the Week 15 slate. But alas, here we were…expected to be entertained by two last-place teams playing a meaningless December football game. Awesome.
Winner: Brock Osweiler, quarterback, Denver Broncos
Speaking of the devil. If we were to tell you just a couple short weeks ago (or at any point in human history prior to this) that Osweiler would be a winner in a December NFL football game, you'd likely take us out with the weekly trash.
But in an NFL season that's been defined by oddities at nearly every turn, Osweiler might have very well been the best football player on the field in Indianapolis Thursday night. Taking over for an injured Trevor Siemian early in the game, this much-maligned veteran ended up completing 12-of-17 passes for 194 yards with two touchdowns. What is even happening here, people?
By virtue of Osweiler's performance, Denver won its second consecutive game and moved to 5-9 on the season. Let's just hope for the fans in Mile High that this doesn't give GM John Elway hope…nope, we're not going to go there.
Loser: Jacoby Brissett, quarterback, Indianapolis Colts
We've given Brissett the benefit of the doubt a lot this season. Taking over for an injured Andrew Luck isn't going to be easy for anyone. Doing so after having just been dealt to the team takes this to an entirely new level.
Now, months removed from having to learn a new playbook, these excuses no longer fly. And on Thursday night, Brissett did absolutely nothing to prove himself capable of being a starter-caliber quarterback in the NFL. He completed 17-of-30 passes for 158 yards without a score — continually missing receivers throughout the night.
With a 34-year-old Frank Gore having to play on a short week after running the ball 36 times this past Sunday, Indianapolis needed Brissett to step up. That didn't happen. And it resulted in four consecutive second half drives that went 20 yards or less. Ouch.
Winner: C.J. Anderson, running back, Denver Broncos
Denver entered Week 15 having averaged 3.9 yards per rush thus far this season. For his part, Anderson had failed to hit the 80-yard plateau in any of the previous nine games. Taking on a Colts defense that ranks in the bottom 10 of the NFL against the run, something had to give here. And boy did it.
Anderson put up his best performance of the season, recording 158 yards on 30 attempts in the 25-13 Broncos win. A product of bad offensive line play and erratic performances under center, Anderson has definitely had a down season. But he could be an important cog moving forward if the Broncos decide the veteran still has something left in the tank. By virtue of Thursday's dominating performance, that could very well still be the case.
Loser: T.Y. Hilton, wide receiver, Indianapolis Colts
If the Colts were going to be able to do anything through the air against what is still a good Broncos pass defense, it had to start with this talented receiver. That didn't happen.
Hilton caught all of five passes for 41 yards, coming up small against a Broncos defense he needed to win against in order for Indy to have a chance. Sure some of this is on Brissett, but the Colts are relying on Hilton to be a reliable target. He wasn't on Thursday night.
NFL News

Delivered to your inbox

You'll also receive Yardbarker's daily Top 10, featuring the best sports stories from around the web. Customize your newsletter to get articles on your favorite sports and teams. And the best part? It's free!
MORE FROM YARDBARKER
NFL News

Delivered to your inbox

You'll also receive Yardbarker's daily Top 10, featuring the best sports stories from around the web. Customize your newsletter to get articles on your favorite sports and teams. And the best part? It's free!