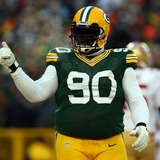 B.J. Raji was one of the best defensive lineman still available on the free agent market, but the former Green Bay Packers star apparently won't be signing with any team this offseason. Ryan Wood of the Green Bay Press-Gazette reports that Raji has informed the Packers he is retiring. The former first-round pick out of Boston College is just 29. Raji had been a force on Green Bay...
The biggest thing the Green Bay Packers defense has been lacking over the past three seasons is difference makers. Every great defense in the NFL has them and they are essential to a dominant defense. Unfortunately, the Packers have been lacking these kinds of players recently and if their defense is going to improve in 2014, they need more of them to come to the forefront.  Defensive...
BJ Raji reportedly turned down a 5-year, 40 million dollar extension from the Packers before last season. If that's true, he has to be kicking himself hard. This 1-year, 4 million dollar deal is a steep fall from that. The Packers originally offered Raji this 1-year, 4 million dollar deal before the start of the off-season, but he turned it down in favor of hitting the open market...
B.J Raji and Ryan Pickett are among the upcoming free agents for the Packers The Green Bay Packers are in a peculiar situation.  They enter this offseason with around $27 million in cap space.  That large number gives the Packers plenty of options of how they can spend their large amount of money.  General manager Ted Thompson could choose to go a different route than in year's past...
It seems like only yesterday. Everyone was sitting around wondering if B.J. Raji was the next great nose tackle in the rich history of the 3-4 defense. It was early in 2011, and Raji was coming off of a season where he recorded 6.5 sacks, and 51 pressures. He was dynamic, and earned Pro Bowl consideration, and likely would have played in the game had the Packers not gotten to the...
MORE STORIES >>
NFL News

Delivered to your inbox

You'll also receive Yardbarker's daily Top 10, featuring the best sports stories from around the web. Customize your newsletter to get articles on your favorite sports and teams. And the best part? It's free!