All offseason we've heard the rave reviews about wide receiver Brandon Coleman. Through three preseason games, Coleman hadn't lived up to the hype just yet. Fortunately for the New Orleans Saints and their fans, that all changed on Thursday night.   Coleman, who's just in his second year, hauled in four catches on four targets for 82 yards during a 38-10 preseason loss to the Green...
Brandon Coleman has become a force for the New Orleans Saints, at least during the 2015 offseason. Can that strong play continue into the upcoming season? Only time will tell on that, but as Joel A. Erickson of The New Orleans Advocate explained, Coleman will get plenty of work with the first-team during the second preseason game. It was actually a bit surprising to see Coleman not...
By Jason Rowan New Orleans Saints wide receiver Brandon Coleman took to social media earlier this week to apologize for dressing up as teammate Marques Colston during training camp and signing autographs for fans. Coleman, a second-year wideout who signed as a free agent with the Saints in May 2014, donned the helmet and jersey of his veteran teammate and proceeded to fraternize...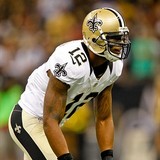 Second-year New Orleans Saints wide receiver Brandon Coleman dabbled in some comedy after practice on Sunday when he wore veteran wideout Marques Colston's jersey and helmet and then signed autographs for fans -- as Colston. Coleman has the uncommon height for a receiver like Colston (he's 6-foot-6, Colston is 6-foot-4) and mass and the first two letters of the last name in common...
Brandon Coleman was on the practice squad for the New Orleans Saints last season, but word out of training camp is that he has a solid chance of making the final roster and playing on Sundays. Marques Colston has been in New Orleans for about a decade now.You would think that fans at training camp would know the difference between the two, but apparently that is not the case. Read more »
There's been a whole lot of interest and intrigue surrounding Brandon Coleman heading into the 2015 offseason. It seems as though the hype is beginning to become warranted, as Coleman is receiving some praise for his play to start training camp. According to Mike Triplett of ESPN, Coleman has only built on the hype that was already surrounding him. The young wide receiver has even...
When the Saints failed to sign Greg Jennings this offseason, the opportunity to not only make the roster as a receiver but contribute in a meaningful way was open to a lot of "potential" receivers. Brandon Coleman was certainly no exception. You'll remember Coleman as the guy that was widely rated as the best undrafted player in the 2014 draft. When the Saints were able to sign him...
Thanks for the twitter questions you submitted. Blogging can be tough this time of year so your interaction helps us grind through it. By the way, I hope you've been enjoying the material from our writers Brian Pavek, PatrickOrly and that crazy Dutchman when he finds the inspiration. I certainly have. I have paid them the BIG BUCKS so they hopefully stay around for 200 years. Let...
Unlikely that either of these players will play on Sunday, but I'm sure they're psyched to get the active roster promotion. #saints place Pierre Thomas and Akiem Hicks on injured reserve. They activate Jerry Franklin and Brandon Coleman from practice squad. — Ramon Antonio Vargas (@RVargasAdvocate) December 26, 2014
MORE STORIES >>
NFL News

Delivered to your inbox

You'll also receive Yardbarker's daily Top 10, featuring the best sports stories from around the web. Customize your newsletter to get articles on your favorite sports and teams. And the best part? It's free!