We've updated our Privacy Policy.
By continuing to use this site, you are agreeing to the new Privacy Policy.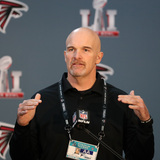 Dating back to their founding as an expansion team in 1966, the Atlanta Falcons have had 16 coaches in NFL franchise history. This list includes two Hall of Fame players and one coach who returned for a second stint. Unfortunately, no coach has lead the team to a Super Bowl victory, but the team was on destiny's doorstep in 2017. How many of the leaders of the Falcons can you name...
Given the opportunity to announce his retirement, offensive coordinator Dan Henning took a pass Thursday. Then he launched into a vigorous defense of both coach Tony Sparano and quarterback Chad Henne. Henning, who at 68 is widely anticipated to retire after the season, was asked pointedly at the beginning of his ...
1. Regardless of the future of Tony Sparano, Dan Henning has to be nudged back into retirement. Henning likes to talk about how he already has retired twice and only came back this time as a favor to his old buddy Bill Parcells. This time, at 68, he should be advised ...
LIKE WHAT YOU SEE?
GET THE DAILY NEWSLETTER:
As we wait for our slow-loading videos of Dan Henning and Mike Nolan to make their way onto YouTube, I will bring to you the interesting and self-reflective comments of Henning from today, in which he finally admitted what everyone else has noticed this year with Miami's offense: The Dolphins' offense ...
Offensive coordinator Dan Henning made it clear Wednesday he isn't sweating his job despite the copious negative feedback seemingly every South Florida media outlet receives regarding the job he's done this season. When asked if he's heard the calls for his dismissal and wonders about his job security, Henning replied, "Job ...
MORE STORIES >>
NFL News

Delivered to your inbox

You'll also receive Yardbarker's daily Top 10, featuring the best sports stories from around the web. Customize your newsletter to get articles on your favorite sports and teams. And the best part? It's free!