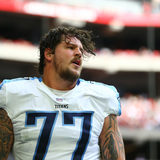 Tennessee Titans offensive lineman Taylor Lewan doesn't seem to think much of Kansas City Chiefs linebacker Derrick Johnson.Cameras caught Lewan disengaging from his block on Johnson and then promptly flipping him off, seemingly without much provocation. Perhaps something was said during what otherwise looked like a rather ordinary block to cause Lewan to react that way. Of course...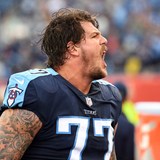 Chiefs linebacker Derrick Johnson is playing in his 13th season in the league, and has earned the respect of the Arrowhead faithful.Titans left tackle Taylor Lewan, however, is not a big fan of Johnson, apparently.The two got into it after one particular play in the first quarter of Saturday's Wild Card game, with Lewan grabbing Johnson and flipping him off. That wasn't a very nice...
Chiefs linebacker Derrick Johnson sent a message to opposing ball carriers during Sunday's game against the Raiders: Don't run in his direction. When a Raiders player received a quick pass on a screen, Johnson lowered the boom and sent him right to the turf. Boom!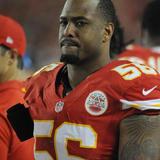 Derrick Johnson has been at it for a long time in the NFL. The long time veteran has been a staple of the Kansas City Chiefs defense since he was drafted out of Texas back in 2005 when he became the first Chiefs linebacker in 20 years to start every game. He had only missed a handful of games over the course of his career before being lost for the season in Week One last year thanks...
The 2014 season had just begun and expectations were high, for both Derrick Johnson, and the Kansas City Chiefs. After a surprising first season under head coach Andy Reid, finishing with a record of 11-5 and securing a wild card playoff berth, the Chiefs were poised for another playoff run in 2014. Unfortunately, opening week was a disaster as they fell to the Tennessee Titians...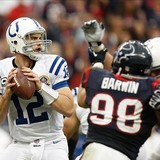 Derrick Johnson looks to contain Andrew Luck and the Colts this week on way to their twelfth victory of the season. (kcchiefs.com) The Kansas City Chiefs play their final home game of the season on Sunday when they take on Andrew Luck and the Indianapolis Colts. The Colts have already clinched the AFC South this season, but the Chiefs look to keep the possibility of winning the West...
MORE STORIES >>
Chiefs News

Delivered to your inbox

You'll also receive Yardbarker's daily Top 10, featuring the best sports stories from around the web. Customize your newsletter to get articles on your favorite sports and teams. And the best part? It's free!