The hilarious folks behind the very popular Bad Lip Reading videos returned this week to release a new edition for the 2018 NFL season. Although nothing will top the original NFL Bad Lip Reading, this video is still extremely funny. The Rams made a brief appearance with Ethan Westbrooks, who delivered the line "I hate whispers, but I still say them." You can see him at the 2:18 mark...
Back in September, Rams defensive lineman Ethan Westbrooks was arrested and charged with one misdemeanor count of carrying a loaded and stolen firearm. He had an arraignment on Friday for the charge, but was not able to attend. On his behalf, his attorney was in attendance and entered a not-guilty plea for Westbrooks. The case will now continue into 2018 with a pre-trial conference...
Ethan Westbrooks was arrested for the second time in just over six months on Friday night when a stolen handgun was found in his car after he was pulled over for speeding. He was taken into custody on five felony gun charges, but was released after posting a bond of $55,000. Westbrooks was at the team facility on Monday, and while he spoke to the media briefly, he couldn't say much...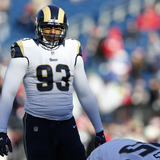 Los Angeles Rams defensive lineman Ethan Westbrooks was reportedly arrested over the weekend by Bakersfield Police in California for possession of an unregistered gun."Westbrooks was stopped this weekend by police in Bakersfield for speeding when sources say police found a firearm not registered to Westbrooks in his vehicle," a local CBS affiliate in Los Angeles reported Monday.Westbrooks...
Los Angeles Rams defensive end Ethan Westbrooks was arrested over the weekend on gun charges, according to Vincent Bonsignore of the Los Angeles Daily News. Per the report, Westbrooks was pulled over for speeding. It was then that police found a gun in his car that wasn't registered to him. He was taken into custody but later released on bail. The Rams were given a few extra days...
The Rams' defensive lineman was arrested during a traffic stop when police discovered a gun that was not registered to him. Los Angeles Rams DE Ethan Westbrooks was arrested in Bakersfield this weekend when he was stopped for speeding and police discovered a gun that was not registered to him. The Daily News' Vinny Bonsignore has the story: According to sources, Westbrooks was...
DL Ethan Westbrooks has signed a contract extension to keep him with the club through the 2018 season.
The St. Louis Rams' third straight victory came at a price.Linebacker Mark Barron and defensive linemen Nick Fairley and Ethan Westbrooks all sustained concussions in Sunday's 23-17 victory at the Seattle Seahawks.Cornerback Trumaine Johnson, who intercepted a pass for the fourth consecutive game, also was evaluated for a concussion before returning to the game while defensive end...
A year ago, Ethan Westbrooks was fighting to make one of the final roster spots. It was Westbrooks or Michael Sam, and the Rams went with Westbrooks. This year is much different, and Westbrooks is motivated to prove that for himself and for the team."I've gotta kinda make it more my year than riding in on somebody's coattails to be honest," he said, via the St. Louis Post-Dispatch...
There are many ways to find professional motivation. One is to think of a previous job you held as a student that was awful (we've all had a few of those), and to say to yourself "I'm never, ever doing anything like that again, because it was the worst." Ethan Westbrooks took that several bounding steps further. The St. Louis Rams defensive end who just became one of four undrafted...
MORE STORIES >>
Rams News

Delivered to your inbox

You'll also receive Yardbarker's daily Top 10, featuring the best sports stories from around the web. Customize your newsletter to get articles on your favorite sports and teams. And the best part? It's free!