New York Jets fans don't have much to cheer for in 2015. One thing many Jets fans wanted to see was the continued development of tight end Jace Amaro. Bad news, Jets fans. Amaro is done for the year. Jace Amaro (shoulder) placed on injured reserve. It's a labrum tear. Will have surgery. Out for year #nyj — Manish Mehta (@MMehtaNYDN) September 1, 2015 Amaro was a second round pick...
Jace Amaro. Is he the future at tight end for the New York Jets or is he just another guy? To asses his future, Cole Patterson took a look at last season. With retrospect on Amaro's 2014, what does 2015 hold? 2014 Jace Amaro had a solid, albeit under-the-radar, rookie season. He made chain moving receptions and showed good situational awareness. In the week 7 matchup against the...
By Vincent Frank New Buffalo Bills head coach Rex Ryan seems like a laid back dude, right? Well, that's until you cross him. Responding to comments New York Jets tight end Jace Amaro made about him last week, Ryan had some rather interesting things to say about his former player. First off, here are the comments Amaro made about last year's Jets team under Ryan. "He (new head...
In an interview with Sirius XM, New York Jets tight end Jace Amaro suggested that there were tardiness issues under former head coach Rex Ryan. It would appear it wasn't just quarterback Geno Smith who got confused with time zones and didn't show up to practice when the team traveled to the west coast. With a change in leadership, Amaro spoke about new coach Todd Bowles and what...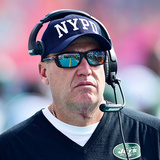 By Steve DelVecchio Rex Ryan is a players' coach above all else. There is a reason guys love playing for him, but can developing too much of a friendship with your players lead to a lack of respect? New York Jets tight end Jace Amaro indicated as much earlier this week. During an interview with SiriusXM NFL Radio on Monday, Amaro spoke about how new Jets head coach Todd Bowles...
This represents the first article of a series we are referring to as, "Deep Impact" where we at Razzball will examine players who are tucked away deep in the player projections and are bound to surpass their underwhelming expectations. The benefit of these players – aside from showing off your fantasy football prowess – is that they are often available on your fantasy league waiver...
With starting tight end Jeff Cumberland out with an injury, New York Jets second round pick Jace Amaro got an extended opportunity against the Cincinnati Bengals this past Saturday. We took a second look at the game with a focus on Amaro, grading out his plays right here:   https://docs.google.com/spreadsheets/d/17YmHDx29XZlXc2dypnqerxfezRQw4Az26WfduRi3feE/edit#gid=0 (screenshot...
Cole Patterson breaks down the New York Jets second round pick, tight end Jace Amaro. Check out our breakdowns of third round pick Dexter McDougle and first round pick Calvin Pryor. Stay tuned for breakdowns of the rest of the Jets draft picks… Background Amaro was a four star recruit out of MacArthur High School (San Antonio, Texas) where he was a two sport star. He was an All...
It is no secret that many of us here on Turn On The Jets were huge fans of Jace Amaro heading into the NFL draft this year. Personally, I felt like he had all the tools to be a perfect fit in Marty Mornhinweg's offense and he would do wonders for Geno Smith, who didn't have many reliable targets last year as a rookie. When the #18 pick rolled around and the Jets were on the clock...
While I refused to give the New York Jets a report card for their 2014 draft class, I do have an opinion on it. The Jets came to Radio City Music Hall to play, loaded with 12 picks, none of which the team decided to trade to move up. They had their plan and stuck to it, making no impulsive leaps up the draft order. And out of all 12 picks, I liked Texas Tech tight end Jace Amaro...
MORE STORIES >>
Chiefs News

Delivered to your inbox

You'll also receive Yardbarker's daily Top 10, featuring the best sports stories from around the web. Customize your newsletter to get articles on your favorite sports and teams. And the best part? It's free!