The Arizona Cardinals have reportedly come to terms on a four-year deal with tight end Jermaine Gresham, who was going to be a free agent. The terms of this deal aren't yet known.Gresham spent his first five NFL seasons with the Cincinnati Bengals before arriving in Arizona as a free agent in 2015. He signed two one-year deals with the Cardinals, and now he's being rewarded with...
The Arizona Cardinals and tight end Jermaine Gresham agreed on a one-year contract for the 2015 NFL season, but it was a big mistake for the former Cincinnati Bengals' tight end. He had interest from the New Orleans Saints and Green Bay Packers, and was also getting interest from other teams across the NFL. Signing with Arizona was the least attractive option for him from a football...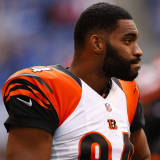 By Rachel Wold The Arizona Cardinals signed tight end Jermaine Gresham to a one-year deal on Friday. Gresham was a first-round draft pick of the Cincinnati Bengals in 2010. The inking of Gresham comes four days after he made a visit to Arizona. The two-time Pro Bowler totaled 280 receptions, 2,722 yards and 24 touchdowns over his five-year career with the Bengals. In 2014, Gresham...
This Saints fan is today's recipient of the nonexistent "worst sports fan in the world" award. Take a look at this video via The Score – Jermaine Gresham tgrots into the endzone with a touchdown, flips the ball up to a Bengals fan, and this Saints fan grabs the ball from her and refuses to give it back. Will Brinson's post on Vine You sir, are not a good person. Thankfully, common...
A mean New Orleans Saints fan pulled a jerk move on a Bengals fan during Sunday's game between the teams. Jermaine Gresham scored his second touchdown of the game and went towards the stands to toss the ball to a Bengals fan he spotted. The plan looked like it would work out well if it...Read More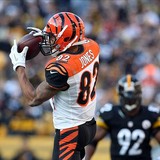 Marvin Jones hopes to have another big day against the Ravens. After a much needed 10 day break, the Bengals will travel to Baltimore on Sunday to take on a Ravens team that lost last weekend to the Browns. The Bengals lost their best defensive lineman, Geno Atkins, for the year on October 31st in their 22-20 loss to the Dolphins. This game has huge implications for both teams...
Cincinnati Bengals tight end Jermaine Gresham tweeted today that a homeless man helped him avoid a $55 parking ticket by dropping two quarters into a parking meter for him. He picked the right guy to help. Gresham didn't have 50 cents, but he did have a crisp $100 dollar bill, which he gave the man for his kindness.
MORE STORIES >>
Cardinals News

Delivered to your inbox

You'll also receive Yardbarker's daily Top 10, featuring the best sports stories from around the web. Customize your newsletter to get articles on your favorite sports and teams. And the best part? It's free!