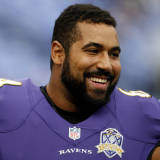 Baltimore Ravens offensive guard John Urschel is not just a good athlete. He's a pretty smart guy, as well, and has a fantastic track record in education to prove it. Urschel earned 4.0 honors in earning his bachelor's and master's degrees in math at Penn State (via Jamison Hensley, ESPN) and is now having the same success in PhD classes at MIT. My first semester in school in...
Ravens offensive lineman John Urschel, one of the NFL's smartest players, had the top Wonderlic test score at the 2014 combine but was still unhappy with it.
The NFL has issued a mea culpa for missing the signal from Ravens offensive lineman John Urschel. League vice president of officiating Dean Blandino said referee Ronald Torbert was distracted when Urschel ran his hands up and down his jersey number to report as an eligible receiver. "What the referee was actually doing at that moment, he was correcting a number from a foul on the...
The refs only have one job and there are a handful of them out there to do it so you would think that they could get things a little more right than they do. Instead they find ways to screw up the simplest of things and rob players of big plays. Maybe the plays are not big or significant to the game, but they are still important to the player.Such was the case Monday night when the...
By Jason Rowan John Urschel is entering his second year in the NFL after being selected in the fifth round by the Baltimore Ravens in the 2014 NFL Draft. Given his later-round draft status, Urschel obviously does not make as much money as some of his NFL brethren. But he does make a very good living compared to the average person, earning $564,000 in salary and bonuses during his...
Ravens offensive lineman John Urschel has gained a lot of notoriety this offseason for his immense brain power, but some may be puzzled by his choice of vehicle. Urschel, who said earlier this year that he lives off $25,000 a year despite an average annual salary of almost $600,000, drives a Nissan Versa. He purchased the vehicle used for $9,000 after as a gift for himself after...
Ravens resident mathlete John Urschel gave a fun 1-on-1 interview with Bleacher Report's Mike Tanier and covered everything from advanced analytics in football to Rob Gronkowski's recent proclamation that he hasn't spent any of his NFL salary yet.  The entire discussion is worth a read, but here are some of the highlights: On whether it's possible to heed a coach's request to give...
Ravens offensive lineman John Urschel has made more news for his mind this offseason than for his football abilities, and the federal government took notice.The National Security Agency recruited Urschel to deliver a complex math presentation that explained how an algorithm he created can help the agency operate, according to a report from TMZ Sports. Urschel doesn't see himself...
John Urschel is the lineman who's online. And he was all over the draft. The 6'3", 301-pound offensive lineman for the Baltimore Ravens is as prolific a mathematician and forecaster as he is a blocker. At Penn State, he started every game of the 2012 and 2013 seasons. He also cranked out a paper—brace yourself—titled, "A Cascadic Multigrid Algorithm for Computing the Fiedler Vector...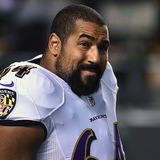 By Steve DelVecchio Baltimore Ravens offensive lineman John Urschel is one of a handful of very large men who protect quarterback Joe Flacco and his $20 million average annual salary for a living. He also may be a genius. No, seriously. As Bloomberg Business pointed out, Urschel recently published an incredibly complex math study in one of those journals that many of us had to...
MORE STORIES >>
NFL News

Delivered to your inbox

You'll also receive Yardbarker's daily Top 10, featuring the best sports stories from around the web. Customize your newsletter to get articles on your favorite sports and teams. And the best part? It's free!