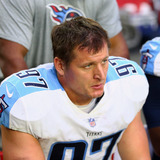 The Titans announced that they have released defensive lineman Karl Klug. Klug, one of the longest tenured players on the Titans' roster, had been with the team since entering the league as a fifth-round pick in 2011. "I really appreciate all that Karl gave to this team in his seven seasons with the Titans. He is a tireless worker, and his passion for football showed in how he prepared...
Tennessee Titans defensive end Karl Klug dabbled as a fullback last season, serving as a lead blocker on a touchdown run in Tennessee's 16-14 win over Jacksonville Oct. 12 and catching a pass for nine yards in the team's 36-7 loss to the New York Giants Dec. 7. But the 27-year-old figured his days of lining up on offense were over when the team selected Jalston Fowler out of Alabama...
NASHVILLE, Tenn. (AP) Defensive lineman Karl Klug is considered the Tennessee Titan most likely to get into a fight during training camp. Thanks to a shake-up in locker assignments, Klug could find himself sitting right next to the offensive lineman he just fought. That's not going to stop Klug. ''When we get in a fight, it's never personal,'' Klug said. Coach Ken Whisenhunt certainly...
The Tennessee Titans had not been one of the most active teams early in free agency. That changed Friday, as they re-signed three of their own players and added two more from other teams. The re-signings included defensive lineman Karl Klug, outside linebacker Derrick Morgan, and kicker Ryan Succop. The additions included tight end Anthony Fasano and outside linebacker Brian Orakpo...
Back in the saddle again. Player Game Analysis was something I tried a couple years ago, but haven't kept up with where I take an in-depth look at one player's play in a single game.The one player I wanted to take a detailed look at was rookie defensive tackle Karl Klug. I was skeptical of him when the Titans drafted him, especially because it seemed to be a repudiation of the philosophical...
MORE STORIES >>
Titans News

Delivered to your inbox

You'll also receive Yardbarker's daily Top 10, featuring the best sports stories from around the web. Customize your newsletter to get articles on your favorite sports and teams. And the best part? It's free!