We've updated our Privacy Policy.
By continuing to use this site, you are agreeing to the new Privacy Policy.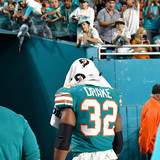 A rather ugly incident unfolded in the fourth quarter of Sunday's game between the Buffalo Bills and Miami Dolphins.Miami receiver Jarvis Landry took umbrage to a hit leveled by Buffalo safety Jordan Poyer. After Landry headbutted Poyer, things went nuts. That included Dolphins' running back Kenyan Drake throwing a Bills' helmet across the field, Kyle Turley style. As a result, two...
Former Saints first team All-Pro offensive lineman Kyle Turley introduced a new perspective to the analysis of the Saints bounty program. During a radio interview Monday, Turley charged the players union with the responsibility of investigating and stopping the bounty programs that provides financial incentives for players to injure other players. He specifically targeted Drew Brees...
Kyle Turley who spent nine seasons as an NFL tackle with the New Orleans Saints, St. Louis Rams and Kansas City Chiefs, was a guest on ESPN's Outside the Lines for their report on the troubling abuse of painkillers by NFL players. And let me tell you, he sure did deliver, especially in the manner [...]
LIKE WHAT YOU SEE?
GET THE DAILY NEWSLETTER:
There are bound to be a few people out there who are not going to be happy when a coach leaves a second, or third-tier program to take what was widely known to be their dream job at a traditional powerhouse school . You can take the high road like the SDSU athletic director did and wish your former coach luck in his new endeavor, or you can follow Kyle Turley and take the low road...
JOINT EFFORT
Former NFL lineman and first-round pick Kyle Turley was making the radio rounds on Thursday to promote a party he's co-hosting at the Super Bowl on behalf of Gridiron Greats. The outspoken hot head already made headlines earlier in the day for ripping Brady Hoke who left Turley's alma mater (San Diego State) to go [...]
MORE STORIES >>
Chiefs News

Delivered to your inbox

You'll also receive Yardbarker's daily Top 10, featuring the best sports stories from around the web. Customize your newsletter to get articles on your favorite sports and teams. And the best part? It's free!