We've updated our Privacy Policy.
By continuing to use this site, you are agreeing to the new Privacy Policy.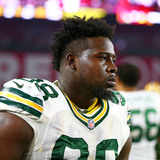 The off-field troubles of former Green Bay Packers defensive lineman Letroy Guion aren't going away. Stemming from a DUI arrest last summer on his birthday in Hawaii, an arrest warrant has been issued for Guion after he failed to show up for his March 5 court date, TMZ Sports reports.According to the report, the judge presiding over this case in Hawaii revoked Guion's bond and immediately...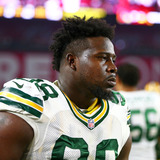 Letroy Guion started 15 games for the Green Bay Packers last season, but after an offseason arrest he's been released by the organization.Green Bay's general manager Ted Thompson made the announcement on Tuesday, via the team's website.Guion was arrested in Hawaii earlier this year after driving under the influence of alcohol. It wasn't his first notable arrest in recent years, and...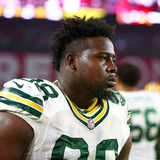 Already suspended for the first four games this season, Green Bay Packers defensive lineman Letroy Guion was arrested Wednesday morning in Waikiki, Hawaii.According to khon2.com, Guion was "arrested and charged with operating a vehicle under the influence of an intoxicant.""According to sources, Guion was pulled over around 4 a.m. by police on Kalakaua Avenue. He later failed a breathalyzer...
LIKE WHAT YOU SEE?
GET THE DAILY NEWSLETTER:
As the NFL Draft inches ever closer, mock drafts are being made all across the NFL landscape.  From the coveted first round selection to the potential late round steals, NFL teams are putting the finishing touches on their draft boards.  The Green Bay Packers have been putting together their draft board since January.  With that in mind, here is what I think that Packers need to...
The Green Bay Packers front office announced on Tuesday afternoon that the team has re-signed defensive tackles Letroy Guion and B.J. Raji. Raji's deal is one-year $3.5 million, but up to $4 million with incentives. Guion's is similar, one-year $2.75 million, up to $3.25 million with incentives. The Green Bay Packers defense ranked 23rd in run defense and tied for 21st in sacks last...
In a story that gets more interesting by the hour, Green Bay Packers defensive lineman Letroy Guion reportedly had cash from his paychecks as a member of the team—$190,000 total—on him when he was arrested for possession of marijuana and gun charges. Authorities were also apparently able to trace that cash back to Guion's bank account, which is an indication that they were a legitimate...
By Larry Brown Green Bay Packers nose tackle Letroy Guion was arrested Tuesday night in Starke, Fla., and charged with possession of marijuana and a gun. Police also seized over $190,000 during the stop. When you add all of Guion's possessions together, it gives off an appearance that he was in the drug dealing business. According to the Milwaukee Journal Sentinel, Guion was stopped...
According to ESPN Milwaukee's Jason Wilde, Green Bay Packers nose tackle Letroy Guion was arrested last night in Starke, Fla on felony charges of marijuana and firearm possession. Guion is set to become a free agent in March, and if the Packers choose not to re-sign him because of this it will lead a big void at nose tackle. Guion was injured most of training camp, but made the most...
MORE STORIES >>
Packers News

Delivered to your inbox

You'll also receive Yardbarker's daily Top 10, featuring the best sports stories from around the web. Customize your newsletter to get articles on your favorite sports and teams. And the best part? It's free!