We've updated our Privacy Policy.
By continuing to use this site, you are agreeing to the new Privacy Policy.
The GOAT. Matt Bryant's excellence is the sort of thing that defies easy explanation. Kickers simply haven't gone over the age of 40 and kicked so well, and it's rare that any player turns in the best stretch of his career after his 30s have already begun. But here we are with Bryant, nearly a decade into his stint with the Falcons, still kicking away with the same eerie calm and...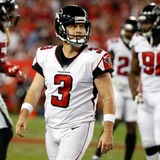 Matt Bryant is re-signing with the Atlanta Falcons and getting some nice money in the process.The two sides agreed to a three-year deal that will pay the kicker $10.5 million, according to ESPN's Adam Schefter. He says the deal could be boosted to as much as $12 million on incentives.Though he turns 43 in May, Bryant has been one of the best kickers in the league. He has missed only...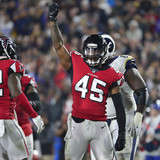 After just barely making the NFL Playoffs, the Atlanta Falcons are moving on to Philadelphia following a 26-13 victory over the LA Rams. the first quarter would be a defensive standoff between the two teams—with Atlanta only getting two field goals—but taking a 6-0 lead.Both teams would find a spark in the second quarter, however. It started with Atlanta increasing their lead to...
LIKE WHAT YOU SEE?
GET THE DAILY NEWSLETTER: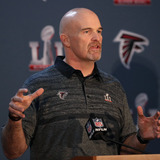 Two months removed from a grueling Super Bowl loss, it's only natural for head coach Dan Quinn to occasionally look back. But he's more interested in learning from the mistakes than dwelling.Specifically, Quinn thinks about when his Atlanta Falcons had the ball up eight. Following an otherworldly catch from Julio Jones, the Falcons had the ball well within Matt Bryant's field goal...
In a game as big as Super Bowl LI, there are always going to be some players who can look back with pride after doing themselves justice in the biggest moments of their career. There will also, inevitably, be others who will rue what went down and feel they could have contributed more. After the astonishing comeback by the New England Patriots and the shocking capitulation by the...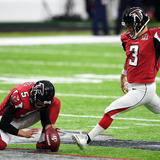 New England Patriots linebacker Shea McClellin was wrongly called for a penalty on an extra point in the second quarter of the Super Bowl on Sunday.After the Atlanta Falcons scored their second touchdown to go up 13-0, they attempted their extra point. But Matt Bryant didn't even try his kick because McClellin had hurdled the line, resulting in a failed try. Unfortunately for New...
It is the lull time of the year in the NFL while teams get ready to begin training camp later this month. But as soon as the action starts, it will be go time for guys to perform their best and assure themselves a position on their team's final 53-man roster come September. Not all players will make it, obviously. And we're certain to see some surprise cuts and trades. Due to age...
There was no way this was happening again. The Atlanta Falcons were up 19-17 in the waning seconds of Sunday's game at Carolina. As Panthers kicker Graham Gano lined up on the 46-yard line to attempt a 63-yard field goal to cap yet another Falcons' blown lead in the fourth quarter, Falcons' fans had all but happy thoughts in their heads. It's blocked. Rookie defensive lineman Ra...
WHAT A CROC
Atlanta Falcons kicker Matt Bryant has emerged as one of the better place kickers in the league this season. He has converted timely and clutch field goals all year long, including the game-winner against the Seattle Seahawks last weekend, but kicking footballs a long way isn't his only rare talent. Bryant told reporters on Thursday that he learned the mating call of an alligator...
HAPPY PLACE
Sometimes even the most benign or meaningless things can bring a sense of calm to a high-pressure situation. Case in point: Atlanta Falcons kicker Matt Bryant says he utilized a lesson he gleaned from watching the Adam Sandler flick, Happy Gilmore, in order to calm his nerves prior to delivering his game-winning field goal at the end of the game that dispatched the Seattle Seahawks...
MORE STORIES >>
Falcons News

Delivered to your inbox

You'll also receive Yardbarker's daily Top 10, featuring the best sports stories from around the web. Customize your newsletter to get articles on your favorite sports and teams. And the best part? It's free!