The Washington Redskins have waived second-year linebacker Brandon Jenkins four days into training camp. ROSTER MOVES: The #Redskins have waived LB Brandon Jenkins. OL Maurice Hurt has also passed physical and is back on active roster. — Washington Redskins (@Redskins) July 27, 2014 Jenkins became a fan-favorite after an impressive training camp and preseason last year as a rookie...
Designed runs for Robert Griffin III will be rare in the Jay Gruden offense, but RG will "have the green light to scramble as often as the situation dictates." Um, Okay. That sounds like a lot of things the Shanahan said about RG. Why would you not want to see him run…sometimes. Hog Heaven hopes to see RG rush for no more than 60 attempts and throw no less than 30 TD passes. HEY...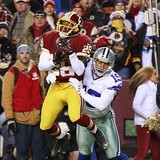 The Washington Redskins added three names to their active physically unable to perform (PUP) list on Thursday morning. Cornerback Josh Wilson, lineman Maurice Hurt and defensive end Adam Carriker were all placed on the active PUP list which means they are not allowed to participate at all in camp, but they are still active members [...]
The Washington Redskins have had to revamp their offensive line several times this season because of injury. Rookie guard Maurice Hurt, whom the team drafted in the seventh round out of Florida, has been pressed into action. Hurt opened the season on the practice squad, but was called up to the 53-man roster in mid-October. After two weeks of inactivity, his first action came in...
In addition to starting strong safety LaRon Landry, the Washington Redskins will be without left guard Maurice Hurt, who started the last two games, as they take on the Dallas Cowboys Sunday. Landry is out with a sore left Achilles' tendon, while Hurt was sidelined with a knee injury for all of last week's practices. Read full article >>
The Washington Redskins' battered offensive line is dealing with more injuries, as left guard Maurice Hurt sat out Wednesday's practice with a knee injury while right tackle Sean Locklear was limited because of a sprained ankle. Hurt — drafted in the seventh round out of Florida State and a practice squad member at the start of the season — had started the last two games at left...
The Washington Redskins will start three rookies on offense today, giving Roy Helu the nod at running back, Leonard Hankerson the start at wide receiver and Maurice Hurt at left guard as the team takes on the San Francisco 49ers at FedEx Field. Read full article >>
MORE STORIES >>
Redskins News

Delivered to your inbox

You'll also receive Yardbarker's daily Top 10, featuring the best sports stories from around the web. Customize your newsletter to get articles on your favorite sports and teams. And the best part? It's free!