We've updated our Privacy Policy.
By continuing to use this site, you are agreeing to the new Privacy Policy.
Today is St. Patrick's Day, during which former Pittsburgh Steelers owner, the late Dan Rooney, will be honored in the city's parade in celebration of the holiday. But yesterday, his alma mater, Duquesne, dedicated a full-day symposium featuring a litany of guest speakers and panelists discussing his life and the...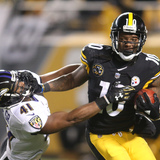 It's not yet known whether the Pittsburgh Steelers are going to move embattled young receiver Martavis Bryant this spring. Rival reports came out Friday, the latter of which noted that Pittsburgh wasn't actively looking to move Bryant. That came after an initial report noted the team was looking to move him.What we do know is that a plethora of teams would be interested in Bryant...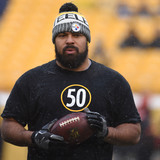 Mike Tomlin has faced a great deal of criticism over the way the Pittsburgh Steelers' season ended, but several players have come out in defense of the head coach over the past two weeks. Veteran defensive end Cam Heyward is the latest.While speaking with reporters from the Pro Bowl on Thursday, Heyward was asked about the perception that Tomlin does not hold his players accountable...
LIKE WHAT YOU SEE?
GET THE DAILY NEWSLETTER: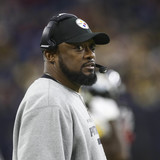 Mike Tomlin has faced a lot of criticism in the wake of the Pittsburgh Steelers' shocking loss to the Jacksonville Jaguars last weekend, and some of the people who own pieces of the franchise are reportedly calling for the head coach to lose his job.A source with knowledge of the situation told Mike Florio of Pro Football Talk that some of the Steelers' limited partners — a small...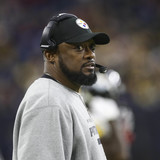 After this weekend's defeat at the hands of the Jaguars, some Steelers minority owners are pushing for the team to fire coach Mike Tomlin, a source tells Mike Florio of PFT. This group of 13 limited partners has no authority over the management of the team, but they "have a pipeline" to main owner Art Rooney and they intend to make their case.  It's unlikely that this baker's dozen...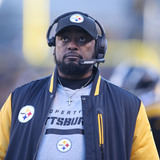 The Pittsburgh Steelers have had a total of three head coaches since 1969. Three. More than any other in professional sports, this organization is loyal. It obviously pushes back against the idea of change, as well.But following Sunday's 45-42 loss to the Jacksonville Jaguars in the AFC Divisional Playoffs, there are some who are looking to change things up a bit.According to Pro...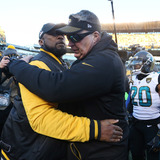 Mike Tomlin defended his controversial decisions following Sunday's AFC divisional playoff loss to the Jacksonville Jaguars at home.The Pittsburgh Steelers fell behind 21-0 in the first quarter and were able to bring the game to a touchdown margin on three occasions, but they were never able to tie things up. Among the decisions for which Tomlin was criticized was the playcalling...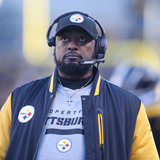 Mike Tomlin was ripped to shreds as his Pittsburgh Steelers lost their AFC divisional playoff game at home to the Jacksonville Jaguars on Sunday.The Steelers fell behind early 21-0, and every time they came close to getting back in the game, they allowed a big play to the Jags. Then the tipping point for many came when Tomlin opted to go for an onside kick down 42-35 with 2:18 left...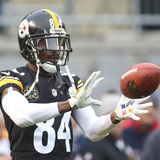 Earlier in the day, a report would break indicating that Steelers' wideout Antonio Brown was dealing with an illness. But it was believed that his calf injury wasn't going to keep him out of Sunday's divisional round action. However, now it appears to be the other way around."Brown's uncertain status is reportedly due to the calf strain he suffered in Week 15, not the illness that...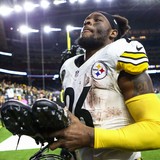 Le'Veon Ball is attracting quite a bit of drama. On Thursday, the Pittsburgh Steelers running back was quoted as saying that if the Steelers franchise him again, retirement is an option (which you can read about here). Shortly thereafter, Bell took to Twitter to make it clear where his focus is. There's a fair amount to digest here.First of all, we're going to assume that Bell meant...
MORE STORIES >>
Steelers News

Delivered to your inbox

You'll also receive Yardbarker's daily Top 10, featuring the best sports stories from around the web. Customize your newsletter to get articles on your favorite sports and teams. And the best part? It's free!