Whenever I get free time in my hectic football schedule, I like to wind down and relax.  My teammates go bowling, watch a lot of movies?but me personally, I love to play video games.  They help me relax.  Surprisingly enough, I'm not a Madden guy.  When I'm not playing football, I want to do something a little different.  I love FPS (first person shooter) games.  There are a lot...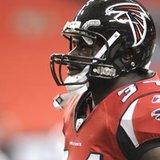 What's up Yardbarkers, I have another contest for you. This one's about Thanksgiving. Watch the video and get at me with your entries!
Recently I had a contest in the Yard where fans suggested nicknames for me. The winning nickname was The Drill. Now I'm here in the Yard to give away an autographed drill to one lucky fan! All you have to do is post a video, photo or leave a comment explaining why you need the drill. What kind of project are you working on? What do you need to fix? Show me why you deserve this autographed...
If you're going to vote, I think you should vote for someone that will create the change that we need in this country. I know I might get in trouble because players aren't supposed to voice their political opinions, but I really think that Senator Obama is the right man to lead this country. I encourage everyone to go out on Election Day and let your voice be heard. I was lucky...
Two nights ago I went to see the Thrashers, the Atlanta hockey team, play against the Washington Capitals. I was invited by some good friends of mine, who got me amazing seats - front row, against the glass. It was basically a chance to see football on ice. They won 7-4 when nobody expected them to, and although the stands weren't full, there were plenty of diehard fans there...
Hey Yardbarkers! Just checking in to let you know that camp is going great so far. I'm exhausted but excited for the season to start. The local newspapers are already talking about what the Falcons are bringing this year...check it out: "...Mularkey forgot to mention that Turner most likely would be chauffeured to, and maybe through, the offensive line by bruising fullback...
Hey Yardbarkers! How's it going? As you may already know, giving back to the community is something that I feel very strongly about. That's why I wanted to stop by real quick and share some news with you - I'm being featured in the Essence Magazine 2008 Do Right Men Issue for the work I've been doing with my foundation. I'm very proud of this recognition for my efforts in the...
It's all about giving back to the kids
Hey Yardbarkers, I have a surprise for you. I know all y'all see me as a bruising Fullback, however little do you guys know, I am also a trained thespian. Upon graduation of college I had a dilemma on whether to go into my first love which is acting or professional football. I reluctantly chose football. While I was out in NY for the NFL draft, ESPN The Magazine gave me a chance...
Some of you may have heard of me but very few of you truly know me. This is why I would like to thank Yardbarker for giving me this opportunity to speak my mind. I never thought I would be a blogger but I am excited and think this experience is going to be fun. The experience that I have had in the last 5 years as a professional football player has provided me a limitless...
MORE STORIES >>
Cardinals News

Delivered to your inbox

You'll also receive Yardbarker's daily Top 10, featuring the best sports stories from around the web. Customize your newsletter to get articles on your favorite sports and teams. And the best part? It's free!