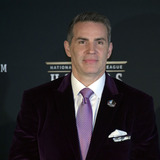 Just a few short weeks ago, one of the most popular and successful undrafted players in NFL history stepped off the gridiron and into the booth. It may be hard believe after all the spotlight that was bestowed upon Tony Romo, but the longtime Dallas Cowboys quarterback was not drafted out of Eastern Illinois, making just about all the teams that passed him over regret it.Romo, of...
At one point, he may have been the best back in the game. Priest Holmes set the NFL single-season rushing record in 2003 with 27 touchdowns. However, following a sharp decline to his career, Holmes retired from professional football in 2007. Following his retirement, Holmes began work with the NFLPA and became a huge contributor in his hometown city of San Antonio. Now, nineteen...
It sounds like a near-death experience. That's how Priest Holmes, a former All-Pro running back, described head-to-head crashes on the football field. For a moment, as bodies are peeled off a woozy ballcarrier by officials and teammates, the sky can change color or become a heavenly light. "This color obviously isn't going to be blue. It can be a color that can be orange. It can...
For reasons we can't comprehend, the Redskins seem to be seriously interested in signing Larry Johnson, otherwise known as the Shaun Alexander Experiment 2.0. What a 31-year-old-to-be running back would bring to an already aging Skins backfield, I'm not sure. But LJ seems to think him and Portis together would be an unstoppable force: "That'd be awesome," Johnson said. "There...
What's up Yardbarkers? I'm sorry for going ghost on y'all since my second post, but I've been doing a little traveling. I have probably been on 6 flights in the last couple of weeks. Some of the highlights were going to Cancun for some business and pleasure, then going to San Antonio to work out with Priest Holmes, and throwing out the first pitch at the season opener for the Augusta...
MORE STORIES >>
NFL News

Delivered to your inbox

You'll also receive Yardbarker's daily Top 10, featuring the best sports stories from around the web. Customize your newsletter to get articles on your favorite sports and teams. And the best part? It's free!