We've updated our Privacy Policy.
By continuing to use this site, you are agreeing to the new Privacy Policy.
[Editor's note: This post was written in August, before the details of the Josh Brown case were made public.] The NFL finds itself embroiled in another domestic violence scandal as the 2016 season gets underway. The league is now being widely criticized for for its one-game suspension of New York Giants kicker Josh Brown for a May 2015 arrest.At the time, Brown's wife told police...
It was literally just yesterday that the potential of the Atlanta Falcons re-signing linebacker Prince Shembo seemed possible. Apparently, though, as D. Orlando Ledbetter of MyAJC.com reports, the Falcons have decided against re-signing Shembo. "I think that we are just happy right now where we are at with the linebackers," Falcons coach Dan Quinn told Ledbetter on Monday. "We're...
Prince Shembo #53 celebrates with Robert McClain #27 of the Atlanta Falcons following an interception against the New Orleans Saints during a game at the Mercedes-Benz Superdome. (Mandatory Credit: ESPN/Getty Images) Prince Shembo was cut from the Atlanta Falcons mini camp roster due to legal issues. He was arrested and charged with killing his Ex-girlfriend's dog. Last Friday,...
LIKE WHAT YOU SEE?
GET THE DAILY NEWSLETTER: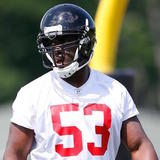 By Steve DelVecchio Former Atlanta Falcons linebacker Prince Shembo was arrested in April and charged with animal cruelty after he allegedly kicked and killed his ex-girlfriend's dog. Believe it or not, his motive may have been jealousy. Denicia Williams, who is suing Shembo for killing the Yorkshire terrier, says she believes Shembo planned to beat her dog because he was jealous...
The Atlanta Falcons have waived linebacker Prince Shembo after he was charged with aggravated animal cruelty Friday afternoon. Police in suburban Gwinnett County say Shembo was charged after his ex-girlfriend's dog died from blunt force trauma last month.  Within two hours of the felony charge, the Falcons cut ties with Shembo. He was released from custody shortly after...
Another Atlanta Falcon made the news in relation to animal cruelty on Friday afternoon and it is looking like linebacker Prince Shembo will be getting charged with killing his girlfriend's dog. Jake Golic, son of ESPN radio personality Mike Golic and former teammate of Shembo, took to Twitter to address the situation. Golic tweeted "As if his resume needed another bruise" and "Not...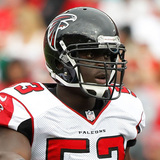 By Vincent Frank The Atlanta Falcons may not have done the right thing when they selected linebacker Prince Shembo in the fourth round of the 2014 NFL draft. But they sure did act in a timely manner by waiving the second-year linebacker mere hours after he was charged with felony animal cruelty in Georgia. In waiving Shembo, the Falcons had this to say: "We are aware of the...
Police have charged Atlanta Falcons linebacker Prince Shembo with aggravated animal cruelty after his girlfriend's dog died from blunt force trauma. Gwinnett County police said in a news release that they obtained a warrant Friday for the NFL player's arrest. Police say Shembo's girlfriend called police on April 19 and said she had taken her Yorkie, Dior, to Shembo's apartment on...
Via Associated Press
Atlanta Falcons linebacker Prince Shembo was arrested on animal cruelty charges for allegedly killing his girlfriend's dog last month. Shembo is accused of kicking and killing his (now ex) girlfriend's dog and has been charged with aggravated felony animal cruelty charges. Shembo's ex-girlfriend told police that she went to visit Shembo, at his home. While...Read More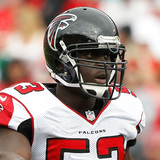 By Vincent Frank Atlanta Falcons linebacker Prince Shembo was arrested on charges of felony animal cruelty charges on Friday. And the reports are about as disturbing as it gets. According to Tony Thomas of WSB-TV in Atlanta, Shembo allegedly kicked and killed his girlfriend's dog. Per the report: "Gwinnett Police file animal cruelty charges against Atlanta Falcons Linebacker...
MORE STORIES >>
Falcons News

Delivered to your inbox

You'll also receive Yardbarker's daily Top 10, featuring the best sports stories from around the web. Customize your newsletter to get articles on your favorite sports and teams. And the best part? It's free!