We've updated our Privacy Policy.
By continuing to use this site, you are agreeing to the new Privacy Policy.
BOSTON (AP) — New England Patriots owner Robert Kraft is helping students and families of victims of the recent shooting at a Florida high school attend a march against gun violence. Patriots spokesman Stacey James confirmed that Kraft provided the team's official plane to fly families of the victims from the shooting at Stoneman Douglas High School in Parkland, Florida, as well...
The students are flying to D.C. to participate in the 'March for our Lives' rally on Saturday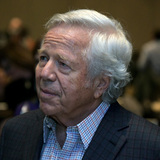 According to The Boston Globe, New England Patriots owner Robert Kraft provided the official team plane to fly families and students affected by the recent shooting at Florida's Stoneman Douglas High School to the nation's capital.There is an event called "March for Our Lives" against gun violence that will be held Saturday at the capital. Per the report, former Arizona representative...
LIKE WHAT YOU SEE?
GET THE DAILY NEWSLETTER: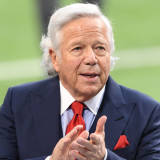 A handful of students from Marjory Stoneman Douglas High School in Parkland, Fla., along with the families of the 17 students and staff who were killed in a mass shooting on Feb. 14, flew to Washington, D.C. for the March for Our Lives rally on Saturday aboard the New England Patriots' team plane courtesy of Robert Kraft. Among the students on the flight were some who were injured...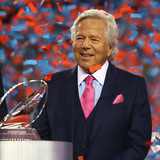 The New England Patriots have taken to Twitter to honor the memory of Stephen Hawking, the renowned theoretical physicist who passed away Wednesday at the age of 76. Interestingly, the Patriots and Hawking have previously crossed paths, so the tribute was not as strange as it may seem. Hawking met Patriots owner Robert Kraft back in 2016. The iconic scientist was in Boston for a...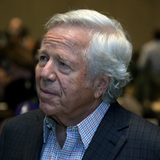 Robert Kraft's longtime girlfriend Ricki Lander recently gave birth to a child, but the New England Patriots owner says he is not the father.After a bombshell report surfaced Wednesday night claiming Kraft and Lander secretly had a baby together last year, the Kraft family issued a statement on Thursday saying Kraft is not the biological father. The original report from Page Six...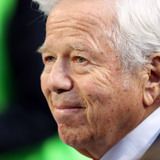 New England Patriots owner Robert Kraft is 76 years old. His on-again, off-again girlfriend–Ricki Noel Lander–is 38. But now she has a child. Not only that, but rumors suggest that Kraft is the owner. However, that doesn't seem to be true."Last fall, Ricki Noel Lander became the proud mother of a beautiful, healthy baby. While Robert Kraft is not the biological father, he is thrilled...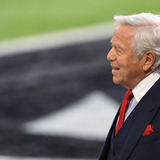 New England Patriots owner Robert Kraft has a child with his girlfriend Ricki Lander, according to a report.The New York Post's Page Six reported on Wednesday night that Lander secretly had a baby last year. There was some speculation that the two had broken up because they hadn't been seen together publicly for a while, but Page Six believes that is because Lander was pregnant....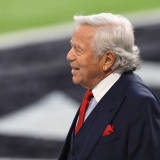 New England Patriots owner Robert Kraft loves himself some Nike shoes. This is by now well known. Following the fifth championship of his tenure as the Patriots' owner last February, Nike created these awesome Air Force 1's as a tribute to the Patriots. That came after Kraft's initial infatuation with this Nike product, when former Patriots corner Ty Law commissioned two custom-made...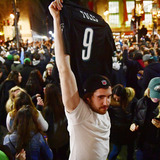 For the final time, Yardbarker takes a look at the NFL's referee hotline, a number set up for players' questions and concerns about officiating. We've obtained access to the responses, which are about as real as Justin Timberlake's affection for Prince. We know when that hotline blings, it can only mean one thing: The government of Philadelphia is calling for backup. Philadelphia...
MORE STORIES >>
Patriots News

Delivered to your inbox

You'll also receive Yardbarker's daily Top 10, featuring the best sports stories from around the web. Customize your newsletter to get articles on your favorite sports and teams. And the best part? It's free!