All remains quiet on the Santonio Holmes front. As other receivers are being signed up by new teams, the former Pittsburgh Steelers first-round pick has not drawn any interest on the open market. The former Super Bowl MVP had this to say in an interview with Sports Illustrated this week. It baffles me a little to know that I'm not a part of any organization. It is a gift and a curse...
Can Santonio Holmes stay relevant in the Bears offense? "Chicago is where receivers go to die," Muhsin Muhammad told Sports Illustrated back in 2008.  Current Chicago Bears third wide receiver Santonio Holmes might have been well served to pay heed to Muhammad's warning before signing with the team this preseason.  Although starting receivers, Brandon Marshall and Alshon Jeffery...
Other than Christmas, there is no day that compares to the opening of a brand new NFL season. Every team has altered their personnel, some more than others (cough cough, Oakland), you never know what you are going to get. Will Seattle continue their reign of dominance? Will Peyton Manning and the retooled Broncos make it back to the big game? Will Blake Bortles see the field this...
It was four years ago Saturday that the Pittsburgh Steelers traded away wide receiver Santonio Holmes to the New York Jets for a measly fifth-round pick in the 2010 NFL Draft, but that trade couldn't have worked out any better. Holmes, who was about to enter into the final year of his rookie contract at […] Remembering The Trade Of Santonio Holmes To The Jets Four Years Ago is a...
I never was a fan of the "best available" draft philosophy, unless your team is coming off a deep playoff run and have no pressing needs on your roster. The New York Jets are certainly not that kind of team. They're a team still technically in rebuilding mode, with a few holes to plug. Talk about a roster transformation: Just 24 months ago, this team had Mark Sanchez, Tim Tebow,...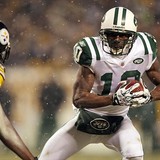 In a long expected move that will immediately free up 8.25 million of cap space, the New York Jets have released wide receiver Santonio Holmes. Before 2011, Holmes was signed to a monster 5 year, 45.25 million dollar contract after putting together a clutch 2010 season for the team. Unfortunately, he never came close to living up to the deal, struggling with inconsistency and injuries...
The New York Jets are expected to make wide receiver Santonio Holmes a salary cap casualty between now and the start of the new league year and there's been more than one person that has asked me if I thought the Pittsburgh Steelers might be interested in bringing him back if the price is right. My short response to that would be, no, and here are a few reasons as to why I think...
MORE STORIES >>
NFL News

Delivered to your inbox

You'll also receive Yardbarker's daily Top 10, featuring the best sports stories from around the web. Customize your newsletter to get articles on your favorite sports and teams. And the best part? It's free!