We've updated our Privacy Policy.
By continuing to use this site, you are agreeing to the new Privacy Policy.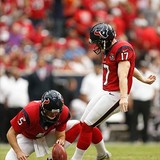 Kicker Shayne Graham is back for another season with the Saints. He'll be the favorite in camp going up against youngster Dustin Hopkins. I noticed some of you have complained about him coming back but I see it like this. Graham is as cheap as you're going to get for a "good" kicker. And with cap woes the Saints can't really spend on a kicker when they have so many needs elsewhere...
Hard to envision the newest practice squad member, kicker Dustin Hopkins, being much of a threat to Shayne Graham before the end of the season/playoffs. But it looks like he'll be in 2015 training camp to give Graham some competition. And with Graham in a mini slump as of late, this kid seems like a threat. From my friend Ramon Vargas of the Advocate: Hopkins worked out for the...
There are plenty of positions that are far more interesting to talk about than kicker, but it is an important position that deserves attention. The rest of the New Orleans Saints roster is set for the most part, and the last thing the Saints want is such a complete roster to go to waste because of special teams deficiencies. At the opening of the offseason, it looked like a forgone...
LIKE WHAT YOU SEE?
GET THE DAILY NEWSLETTER:
It's officially one week until the first Sunday of the NFL season, and all teams were required to have their active rosters down to 53 by Saturday night at 6:00 PM EST. The vast majority of teams follow the time-tested method of keeping three specialists – one kicker, one punter, and one long snapper – on their roster, leaving 50 spots for offensive and defensive players. Last night...
Kickers are most certainly an afterthought in the NFL, as there are often more than a few that bounce around from team-to-team throughout the course of every season. Most teams consider their kickers to be expendable. Former Cleveland Browns kicker Phil Dawson was the rare exception to this for 14 years, as Dawson had been a member of the Browns since their reboot in 1999. Obviously...
The Browns have signed free agent kicker Shayne Graham, a potential replacement for Phil Dawson. A 12-year NFL veteran, Graham has made 85.4 percent of his kicks, fifth in league history. Graham played in 16 games for Houston last season, setting a team record for points with 138. He connected on 31 of 38 field goals and set a career high with 28 touchbacks. Graham has appeared...
The Houston Texans have signed kicker Shayne Graham. The 34-year-old Graham has played for a dozen NFL teams in his career. He played for Cincinnati from 2003-09 and was named to the Pro Bowl in 2005 when he made 28 of 32 field-goal attempts. He played for the New York Giants and then the New England Patriots in 2010, participated in training camps in Washington and Dallas last...
MORE STORIES >>
NFL News

Delivered to your inbox

You'll also receive Yardbarker's daily Top 10, featuring the best sports stories from around the web. Customize your newsletter to get articles on your favorite sports and teams. And the best part? It's free!