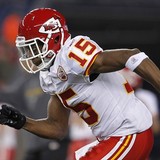 The Kansas City Chiefs released wide receiver Steve Breaston on Wednesday and on Thursday his agent,  David Graves, told 93.7 The Fan that he and his client are exploring their option right now but that there is mutual interest in joining a few different teams with the Pittsburgh Steelers being one them. "He is currently exploring all his options and we can't really comment further...
There has been plenty of sentiment from the media that the Kansas City Chiefs-Carolina Panthers game should be postponed in light of Saturday's tragedy, but not many players have spoken up to say the same thing. That was until Chiefs wide receiver Steve Breaston offered his opinion Saturday night. "There is no way we should be playing this game tomorrow …" Breaston wrote on his...
Baldwin didn't do much as a rookie last year, but he was a 1st round pick and a bad rookie year is hardly damning for a receiver. Baldwin has been impressing in Dwayne Bowe's absence in Training Camp and should be able to nail down a starting job, moving Steve Breaston to the slot, even once Bowe returns. Breaston had 61 catches for 785 yards and 2 touchdowns last year with inferior...
One day I wish I could wake up, and look at this world without make up, and really see what makes up most individuals,everyday finding out more people are into dirt like minerals,wiping they shoes so you can't view the things they into,smiling faces test my mental,crooked dental work ain't the warning signs of jerks,or of the evil that will eventually lurk to test my dreams,so I...
Important matter but we chatter about things that we believe has more importance, poor sense...as we pour cents to a homeless guy thinking it's enough to change his residence, just a thought...just to let you think a little as I'll vent a bit, I'll remove a little tint so you can see into this mind, do you mind...do you find it kind of odd to wear a hundred thousand dollar cross...
I've kissed the faces of the honest and the fake...also those who I've loved and those who I've forsaked...but I no longer beat myself over those mistakes...and it used to break my soul when she or he has giving others second chances, but only letting I fall by the waste side, leaving me waist high in my own tears...hoping I eventually drown from them...so much bitterness but these...
Something I wrote when I was 21   Take a back seat to no one By: S.William Breaston   A long long, long, long long time ago when school desk supposedly protected students from the explosion of a atom bomb, but couldn't protect you from a spit ball launched from Adam's straw, there was a couple with the last name Coleman. The Colemans had two daughters, don't know their first...
MORE STORIES >>
Saints News

Delivered to your inbox

You'll also receive Yardbarker's daily Top 10, featuring the best sports stories from around the web. Customize your newsletter to get articles on your favorite sports and teams. And the best part? It's free!