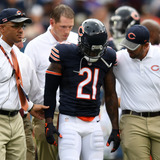 Former New Orleans Saints cornerback Tracy Porter was arrested on drug and domestic assault charges Tuesday night, according to a report by WFAB.The incident took place on Oct. 5 in Baton Rouge when Porter allegedly grabbed a female victim by the arm and throat, per the report. It is reported that the female victim and Porter had been in a relationship for two years. Though, Porter...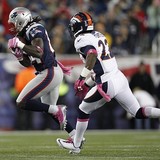 The Chicago Bears announced Monday morning that they have signed cornerback Tracy Porter to a one-year deal. #Bears have signed veteran CB Tracy Porter to one-year contract. Porter has played 7 NFL seasons w/ Saints, Broncos, Raiders & Redskins. — Chicago Bears (@ChicagoBears) June 8, 2015 Porter, who is best known for a game-sealing pick-six to help the New Orleans Saints...
The contract:  Porter agreed to a two-year contract with a base contract value of $6 million. The player:  Tracy Porter, who will turn 28 prior to the season, has played on two consecutive one year contracts since leaving New Orleans as a free agent after the 2011 season.  The Redskins will be the first defense he plays for without ties to the guys who drafted him in New Orleans...
This is my third annual final mock draft, and for the final outcome I will try and simulate the possible outcomes with trades going up and down by teams. You will see some picks that have not been on any of my other mock drafts after reading some late news from each organization. I have spent hundreds of hours looking at mock drafts, video of these players and listening to the...
Lots of clues were dropped on twitter yesterday that Super Bowl hero cornerback Tracy Porter has potentially re-signed with the Saints. Here was the suspicious activity on twitter that lead me to conclude this was a possibility: The following came from Lance Moore's twitter account:"@Harp41 our guy @T_Porter22 will be back. It's just right! #demboyz+Lance""@Harp41 @t_porter22...
Porter returning winning touchdown during 2009/2010 superbowl (sourcenolamovies.wordpress.com) Since the first game of the season, the Saints have been playing without one of their starting cornerback's Tracy Porter,  but after missing...
MORE STORIES >>
Bears News

Delivered to your inbox

You'll also receive Yardbarker's daily Top 10, featuring the best sports stories from around the web. Customize your newsletter to get articles on your favorite sports and teams. And the best part? It's free!