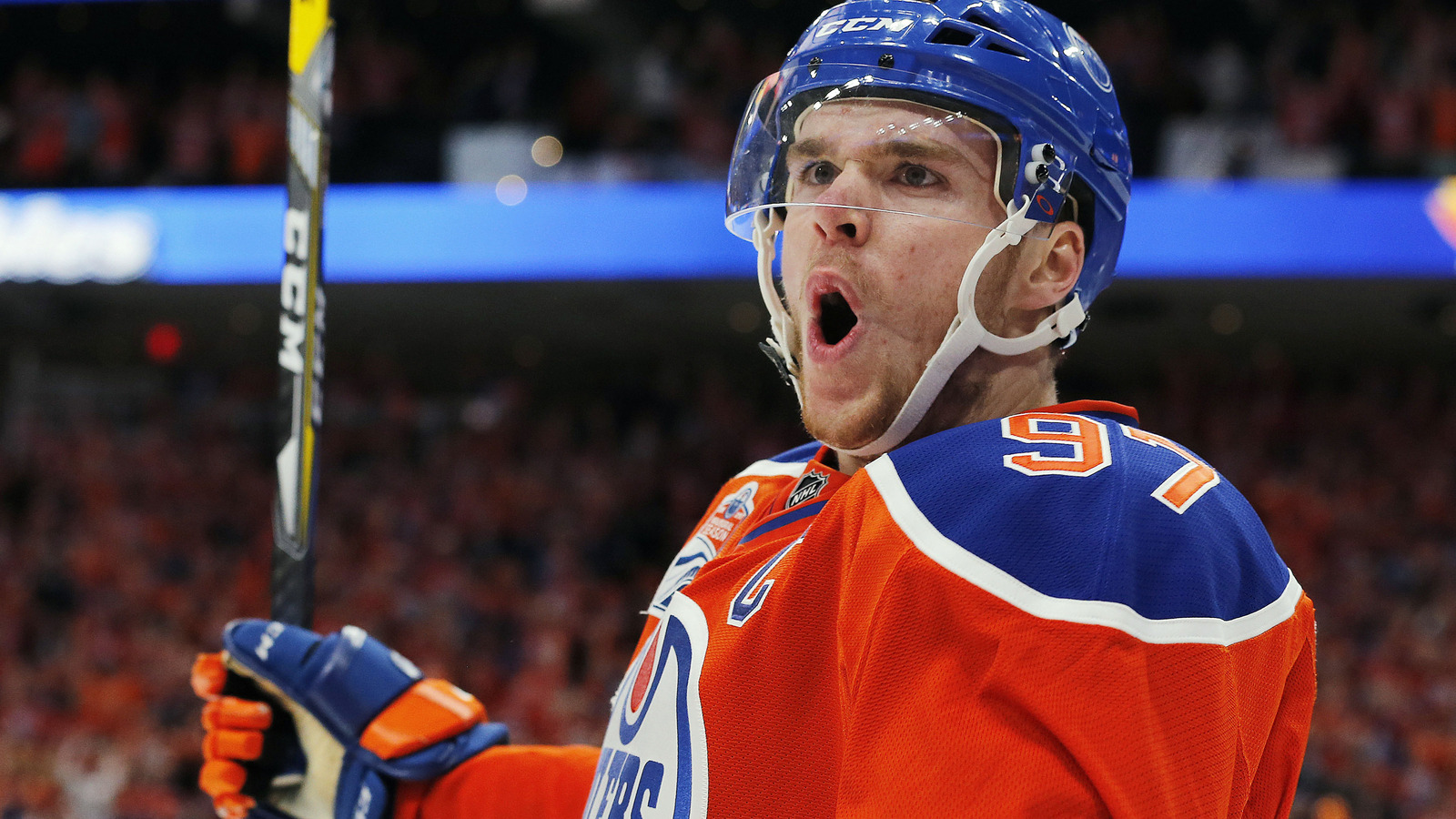 There's no telling how great Connor McDavid can become.
Perry Nelson-USA TODAY Sports
It took just one game for the Edmonton Oilers to make their mark on the NHL season. They began 2017-2018 with a 3-0 victory over the Calgary Flames in their first game wearing a purer orange Adidas jersey, and the players of the game were easy to find.
Cam Talbot, who is looking to build off of a season in which he had a goals against average of 2.39 in an NHL-high 73 starts, stood his ground in stopping all of Calgary's 26 shots for the shutout. It looks like Edmonton has finally found a consistent goalie for at least the next five years.
The biggest performance, however, was from Connor McDavid. It is no accident that the Oilers captain has been considered the best player in the NHL after just two seasons. After being the only player to reach triple digits in points last season, McDavid began 2017-2018 with the first of four NHL hat tricks over the first two nights. He was the only player to score all night at Rogers Place. In a game that Calgary goaltender Mike Smith dominated, Edmonton may have needed McDavid to show off his foray to avoid overtime.
His first goal was midway through the first period, when Leon Draisaitl fed McDavid on a cross pass in front of Smith. That would be the only offense for 48 minutes before a Micheal Ferland turnover turned into a fantastic breakaway. McDavid threw the puck down the ice, and he charged at Smith before chipping it over his glove. As if coming really close to hitting the goalie was not aggressive enough, he blew by defenseman T.J. Brodie despite having more ice to cover.
He locked up the hat trick on an empty net goal following a huge hit from Milan Lucic. McDavid has since had company in the hat trick column, as Wayne Simmonds recorded a hat trick in San Jose that same night. The next day, Chicago's Brandon Saad and Washington's Alex Ovechkin joined the three-goal parade.
While those are all big names, McDavid looks to be on the fast track to blowing by all of them in scoring. As well as the Oilers have improved in all facets, such as breakouts from Talbot and Oscar Klefbom, and having former No. 1 pick Ryan Nugent-Hopkins in the team's back pocket, McDavid will ultimately determine Edmonton's fate. He has not only made defenses look awful, but he has turned decent players into great ones. Draisaitl went from being a decent third overall pick to an outstanding, $68 million winger, and Zack Kassian and Patrick Maroon have balanced their reputation as enforcers and finding ways to contribute offensively.
If McDavid plays like this all season, then the Oilers do not even have to worry about the playoff status. The only questions will be how close to historical marks the captain will get and how much he further impacts the Edmonton and NHL communities. He is a once-in-a-generation player who will lure American fans constantly despite being as far away from the USA as Cologne, Germany, Draisaitl's hometown, is to Berlin.
MORE FROM YARDBARKER:
QUIZ: Name the 10 players on the Edmonton Oilers in the Hockey Hall of Fame
10 Edmonton Oilers are in the Hockey Hall of Fame. How many of these NHL players can you name?
Clue: Years active with the team
Note: * denotes a non-consecutive stretch of playing time
MORE FROM YARDBARKER
Oilers News

Delivered to your inbox

You'll also receive Yardbarker's daily Top 10, featuring the best sports stories from around the web. Customize your newsletter to get articles on your favorite sports and teams. And the best part? It's free!