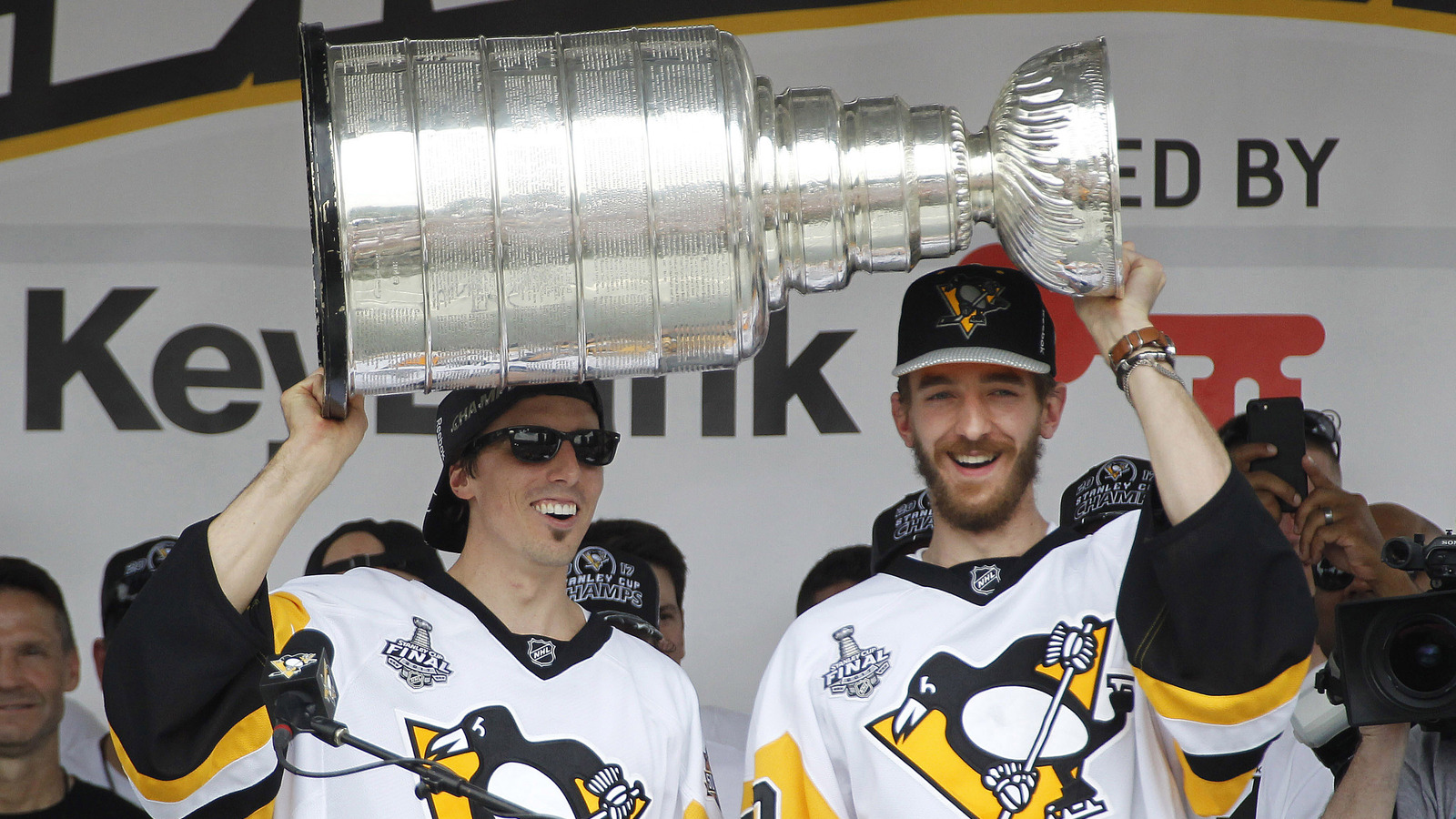 After Marc-Andre Fleury was selected in the expansion draft by Vegas, Matt Murray is the unquestioned man between for the Penguins in 2017-18.
Charles LeClaire-USA TODAY Sports
Penguins 23-year-old goaltender Matthew Murray is now officially the man in Pittsburgh. After winning two straight Stanley Cups, Murray will be the clear-cut No. 1 goalie with Antti Niemi backing him up. The Penguins signed Niemi to a one-year deal worth $700,000.
Although Murray is the first goalie to win two Stanley Cups before his rookie season ended, there are still a few questions that the Ontario native needs to answer.
Can Murray carry the load without Marc-Andre Fleury?
Marc-Andre Fleury has been an essential piece to the Penguins' puzzle ever since he joined the team back in 2003. Fleury led the Penguins to a Stanley Cup in 2009 and played a major role in the 2017 Stanley Cup Playoffs while Murray was sidelined with a groin injury.
Murray has never been a workhorse goalie like Fleury, which should make for an interesting season ahead.
This past season, Murray started 47 games, posting a record of 32-10-4.
General manager Jim Rutherford stated that he expects Niemi to play around 30-35 games, which is why it was important for the Penguins to acquire a quality backup to Murray.
Will Murray's injuries continue?
After one full year with the Penguins, Murray sustained three injuries throughout the year. A wrist injury in the World Cup kept Murray out for the beginning of the NHL season, which opened the door for Fleury to return to the net. A lower-body injury followed in the middle of the year, which kept Murray out for another six games. Finally, in warmups of Game 1 of the playoffs, he sustained a groin injury that kept him sidelined until the Eastern Conference Final.
Murray's durability will be tested this year, which is another reason why Niemi's presence will give the Penguins some breathing room.
In the end, Murray will thrive
If there is one thing that Murray has proved so far in his young NHL career, it's that he is a winner. He has a record of 41-12-5 in regular-season play with a save percentage of .925. In the playoffs, Murray is 22-9 with a goals against average of 1.95 and a save percentage of .928.
With a combined NHL record of 63-21-5, Murray has shown his ability to win in all situations. His calm demeanor gives his team confidence, which is the most important trait for a goalie to have.
With a third straight Stanley Cup on the line, expect Murray to continue his winning ways as the man between the pipes.
MORE FROM YARDBARKER:
Name every NHL goalie in the post-expansion era to win the Stanley Cup
The NHL went from six to twelve teams starting in the 1967-68 season, in what many consider to begin the modern era of the league. How many of the Stanley Cup winning goalies from this time can you name in ten minutes?
CLUE: YEAR / TEAM. Note: To qualify for the list, a goaltender must have factored into at least one decision during the Finals while being a member of the winning team.
MORE FROM YARDBARKER
Penguins News

Delivered to your inbox

You'll also receive Yardbarker's daily Top 10, featuring the best sports stories from around the web. Customize your newsletter to get articles on your favorite sports and teams. And the best part? It's free!