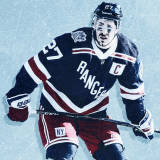 The NHL trade deadline came and went on Monday, and while there were no real blockbusters to speak of, several big names did switch cities. There were also some surprises and head-scratchers, which is all a fan can really ask for at any trade deadline. We have complete recaps of all the moves in both the Eastern Conference and Western Conference, but let's take a closer look at some...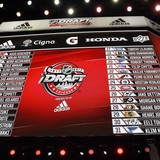 Earlier this week, The Athletic's Tyler Dellow went to work trying to figure out how the Ottawa Senators could maximize their trade return (subscription required) for Erik Karlsson, should the team decide to move the all-world defenseman prior to the NHL Trade Deadline on February 26th or at least the 2018 NHL Entry Draft. Dellow surmised that in order to get anywhere near a fair...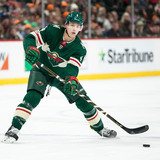 The Wild have given defenseman Mike Reilly's agent (Pat Brisson) permission to talk to other teams about a trade, reports Michael Russo of The Athletic (subscription required). He notes that this permission may have been granted as much as two months ago although GM Chuck Fletcher declined to comment. For his part, Reilly confirmed that he has not asked for a deal.It has been a bit...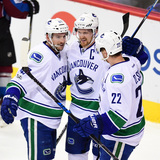 Henrik Sedin spoke to the media today in Vancouver as the team prepares for its game against the Los Angeles Kings and touched on his future and that of his twin brother Daniel Sedin. TSN 1040 shared the audio from his availability, including answers on when they'll make a decision about next year: We want to help the team as we can, but we'll make the decision when the time comes...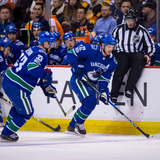 Daniel and Henrik Sedin are no different than any other hockey player who has played all or most of his career with the same team. Despite their age and decreased production, they would like to stay with their club – the Vancouver Canucks – for as long as they'll have them. That's why the report from Sportsnet's Chris Johnston yesterday that the duo would like to return to Vancouver...
Vancouver Canucks superstar Daniel Sedin — and his twin brother Henrik — generally are not considered tough guys by NHL standards. But simply being a hockey player requires a certain level of manliness that is unparallelled in pro sports. Exhibit A: During the second period of Monday's tilt against the Los Angeles Kings, Sedin was […]The post Daniel Sedin takes high stick to the...
MORE STORIES >>
Canucks News

Delivered to your inbox

You'll also receive Yardbarker's daily Top 10, featuring the best sports stories from around the web. Customize your newsletter to get articles on your favorite sports and teams. And the best part? It's free!