We've updated our Privacy Policy.
By continuing to use this site, you are agreeing to the new Privacy Policy.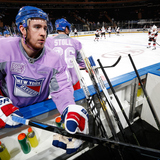 The New York Rangers have gone 3-6-1 over their last 10 games, and head coach Alain Vigneault was not afraid to single out a certain player for the team's struggles.That player: forward Kevin Hayes."I think we all have our tipping points, and I think Kevin has had an extra-long leash, especially considering [center Derek Stepan] was out for quite some time," Vigneault said in regard...
Holy smokes the blog is getting smoked with Ranger fan questions. Yes, I have it on a very good source that K. Hayes made Rangers. — BC Hockey Blog (@bchockeyblog1) October 6, 2014 According to the BC Hockey Blog, Kevin Hayes will be on the Rangers opening night roster. I consider this a rumor and I continue reading...
Newly signed prospect Kevin Hayes has been added to the Traverse City roster for this year's tournament. He will join the 14 other forwards when the tournament begins in September. Hayes, a former first round pick of the Blackhawks, was signed by the Rangers this week after the Hawks failed to sign him before the […] The post Hayes added to Traverse City roster appeared first on Blue Seat Blogs.
LIKE WHAT YOU SEE?
GET THE DAILY NEWSLETTER:
Kevin Hayes is the most hyped College Free Agent since Justin Schultz and the Rangers signing him to a contract despite fierce competition around the league is indeed a coup for the club; however immediate expectations will need to be kept in check despite his burgeoning reputation. Particularly from our excitable fan base. Hayes fills […] The post Tempering expectations for Kevin...
We mentioned this last month that there was a possibility 24th overall pick in 2010 Kevin Hayes would not sign with the Blackhawks and therefore become a free agent on August 16th when the deadline rolls around. It's just over a week away from August 16th and the Boston College product is still at a deadlock with the 2013 Stanley Cup Champions and is planning to walk when the time...
On Tuesday evening, ESPN Chicago's Scott Powers confirmed what most of us have been assuming for some time: Kevin Hayes isn't signing with the Blackhawks.The post Good Bye, Kevin Hayes appeared first on Committed Indians.
Now that the Blackhawks annual prospect camp and fan convention are both in the rear view mirror, the next date on the calendar for Hawks fans is in less than four weeks. Kevin Hayes, the team's first round draft pick … Continue reading →The post Will The Blackhawks #FreeHayes? appeared first on Committed Indians.
Per Larry Brooks, the Rangers are targeting 2010 first round pick Kevin Hayes out of Boston College. Hayes may become a UFA if Chicago does not reach an agreement with the forward by August 15. Hayes is a big kid at 6'3″ and 205 lbs, and put up 27-38-65 in his final year with the […] The post Brooks: Rangers targeting former first rounder Kevin Hayes appeared first on Blue Seat Blogs.
According to ESPNChicago, forward Kevin Hayes will not attend the upcoming Blackhawks' prospect camp. The Blackhawks have until August 15 to sign him or he becomes an unrestricted free agent; Chicago would receive draft pick compensation if (when) Hayes becomes a … Continue reading →The post Report: No Prospect Camp For Kevin Hayes appeared first on Committed Indians.
Various media outlets have alluded to something CSN Chicago's Tracey Myers tweeted a couple weeks ago: Boston College senior forward Kevin Hayes will not sign with the Chicago Blackhawks. Hayes, who turns 22 on May 8, was the Hawks' first … Continue reading →The post What's Up, Kevin Hayes? appeared first on Committed Indians.
MORE STORIES >>
Rangers News

Delivered to your inbox

You'll also receive Yardbarker's daily Top 10, featuring the best sports stories from around the web. Customize your newsletter to get articles on your favorite sports and teams. And the best part? It's free!