STEEGER IS BACK! Projected Lines Oh Kris Versteeg, you are a sight for sore eyes! The Flames are getting one of their top PP forwards back tonight and it couldn't come at a better time. Versteeg returns to the lineup for the first time since being injured in a 6-4 loss to the Dallas Stars back on November 24th. The veteran forward has only 8 points in 22 games this season, but...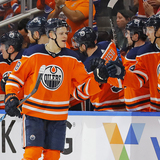 Edmonton's team needs are well known and chief among them is a winger that can play with Connor McDavid.  The Oilers were hoping that 2016 fourth-overall selection Jesse Puljujarvi would fit into that role but he has yet to establish himself in his first two seasons in North America.  Accordingly, some wondered if the team might have been willing to part with him before the trade...
Newsday's Steve Zipay is reporting the Hawks and Habs may have had a deal in place, but forward Kris Versteeg vetoed the trade. Chicago's Kris Versteeg has nixed a trade to Montreal, I'm told by a trusted source — Steve Zipay (@stevezipay) June 26, 2015 According to General Fanager, Versteeg does not have a no-trade […] The post Report: Versteeg Vetoes Trade To Montreal? appeared...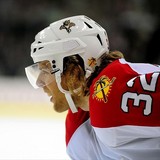 On Sunday afternoon, the Blackhawks announce that they have placed forward Kris Versteeg on long-term injured reserve. By definition, this means Versteeg cannot play for at least 24 calendar days and 10 regular season games (retroactive in this case to Jan. … Continue reading → The post Blackhawks Place Kris Versteeg On LTIR appeared first on Committed Indians.
With the NHL All-Star break quickly approaching, the Chicago Blackhawks will have some tough decisions to make sooner than expected. The Blackhawks clicked offensively in their latest 4-1 rout of the Minnesota Wild. As lethal as the offense looked, they will be getting better pretty soon with the return of Kris Versteeg quickly approaching. Despite the fact that the return of Versteeg...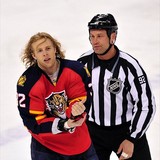 Heading into the 2014-2015 season, many Chicago Blackhawks' fans were criticizing Kris Versteeg and his play at the end of last year. The Blackhawks re-acquired Versteeg from the Florida Panthers in November of 2013, creating much excitement around Chicago hockey due to the role that Versteeg played in the Chicago Blackhawks' 2010 Stanley Cup win.  The then 23 year old contributed...
Less than 24 hours after tanking in Nashville, the Blackhawks returned home to face a hot San Jose team that spent Saturday night. The homecoming was more significant for Kris Versteeg, playing his first game in Chicago since the 2010 … Continue reading →The post Kris Versteeg, Blackhawks Hammer Sharks appeared first on Committed Indians.
MORE STORIES >>
Flames News

Delivered to your inbox

You'll also receive Yardbarker's daily Top 10, featuring the best sports stories from around the web. Customize your newsletter to get articles on your favorite sports and teams. And the best part? It's free!