We've updated our Privacy Policy.
By continuing to use this site, you are agreeing to the new Privacy Policy.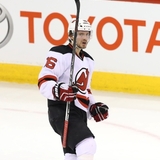 The New Jersey Devils have signed free agent left wing Luke Gazdic and re-signed restricted free agent center Jacob Josefson. General manager Ray Shero announced the moves on Tuesday. The 25-year-old Josefson got a one-year, $1.1 million contract and Gazdic signed a one-year, two-way contract worth $700,000. Gazdic spent the last three seasons with the Edmonton Oilers. Last season...
I say this a lot but I sometimes feel like nobody hears me: a player's Corsi% can't be divorced from the context in which he plays. There's been some talk lately about re-signing Luke Gazdic. I'm opposed to this but I feel compelled to note that I think people overstate the case against him (or, [...]
As far as hockey fights go, this was a good one — until one final punch reminded everyone how bad these skirmishes can end.Kevin Westgarth and Luke Gazdic exchanged punches during the latest installment of the Battle of Alberta between the Flames and Oilers Saturday night. And, for a while, the first period dust-up looked pretty even.Just as the announcers observed the length of...
LIKE WHAT YOU SEE?
GET THE DAILY NEWSLETTER:
This heavyweight fight between Calgary Flames enforcer Kevin Westgarth and Edmonton Oilers goon Luke Gazdic is exactly why the NHL doesn't want guys taking their helmets off in fights. Westgarth (6'4″ 235 lbs) took an absolute beating from Gazdic (6'3″ 210 lbs) and on the fourth massive punch, he went down. Unfortunately when he went down he slammed the back of his head on the ice...
The Boston Bruins were having their way with the Edmonton Oilers, up 3-1 early in the 2nd period. Oilers forward Luke Gazdic was looking to change the momentum and he challenged Bruins forward Milan Lucic to a fight. Both Lucic and Gazdic are 6'3″ 210 lbs and that made for an awesome heavyweight bout. They exchanged punches like rock 'em sock 'em robots and made for one of the more...
MORE STORIES >>
Oilers News

Delivered to your inbox

You'll also receive Yardbarker's daily Top 10, featuring the best sports stories from around the web. Customize your newsletter to get articles on your favorite sports and teams. And the best part? It's free!